The Shutdown Doesn't Stop Obamacare Pushback ... and More
By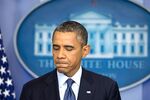 The government shutdown and approaching debt ceiling have gotten a lot of attention lately, for good reason. But just because "nonessential" federal employees have been sent home doesn't mean that advocacy work on government policies affecting small businesses has halted. Here are three policies business owners may have been wondering about as coverage about them dried up in the crush of stories about the shutdown.
Obamacare's "full-time" definition. Today the House Small Business Committee is holding a hearing on an important if technical aspect of the ACA: the legislation's definition of a full-time worker as someone who works an average of 30 hours a week. The definition matters, because businesses that employ 50 or more full-time workers will be required to offer health insurance to employees in 2015. That's led some business owners, including those in the restaurant business, to look at cutting employees' hours to below the 30-hour threshold.
The hearing gives Obamacare opponents an opportunity to vent. "While most Americans and other federal statutes define full-time employee as one who works an average of 40 hours per week, the health-care law includes its own definition," Representative Chris Collins, a New York Republican, says in his prepared testimony. His take on the result: "Fewer work hours for employees and administrative nightmares for small businesses," he says.
Online sales tax. In May, the Senate passed the Marketplace Fairness Act, a bill that would require online sellers to collect sales tax on out-of-state transactions. At the time, one point of contention was a provision exempting businesses with $1 million or less in remote sales. More recently, House Judiciary Committee Chairman Bob Goodlatte, a Virginia Republican, released a set of principles to guide his committee's discussion of an Internet sales tax.
Yesterday an advocacy group called the Minority Media and Telecommunications Council was touting a paper by economist Jonathan Orszag arguing that the Senate's definition of small seller would hurt minority-owned businesses (pdf).
In making that case, Orszag notes that the Small Business Administration takes an industry-specific approach to defining "small business." The SBA considers a casino a small business if it does $7 million or less in annual revenue, unless the casino has a hotel attached, in which case the cap is $30 million. A pet food manufacturer, on the other hand, can have 500 employees and be considered a small business. Why should the Internet sales tax apply a blanket definition?
"What is a small gas station is very different from what is a small farm," writes Orszag. That's no doubt true, though the purpose of the MFA's small-seller exemption was to spare the smallest companies from compliance costs that are disproportionate to their out-of-state sales. The paper doesn't show how compliance costs would vary by industry.
Two other points: The paper was supported by funding from EBay, which has lobbied in the past to raise the MFA's small-seller exemption. Meanwhile, Goodlatte's principles indicate that the small-seller exemption will be off the table entirely when the House takes up the bill.
JOBS Act. In July, the Securities and Exchange Commission lifted an 80-year-old ban on the ways startups can market themselves to investors. Members of the startup community rejoiced. Then they read the fine print. The new rules would allow startups, venture capital funds, and other private investment vehicles to tell more potential investors that they're raising money. At the same time, however, the SEC proposed amendments that would require startups to file more paperwork and face stiffer potential penalties.
What's changed since attention shifted to the government shutdown? Investors and startups have been using new general solicitation rules since they took effect on Sept. 23. On Sept. 27, the SEC said it was re-opening the comment period (pdf) on the offending amendments until Nov. 4, giving detractors more time to make their cases. Meanwhile, an SEC official said on Oct. 2 that another long-awaited JOBS Act provision—equity crowdfunding—was "very much a front-burner issue at the commission," according to Bloomberg BNA (subscription required).