Since Dumping Paula Deen, Food Network Ratings Have Continued to Slump
By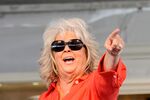 Next week, Paula Deen returns to basic cable, not with a new cooking show but as the subject of an E! True Hollywood Story documenting Deen's rise and fall as a TV chef. "I had a little rough patch this summer," Deen tells the show's producers. "But you know it was an opportunity to learn. I learned a lot about myself. I certainly learned a lot about my business."
Deen isn't the only one who's been going through a rough patch recently. Her former partners at Food Network can no doubt relate.
On Friday, June 21, with revelations from a lawsuit battering Deen's business empire, Food Network executives announced they were cutting ties with their longtime host. The move was applauded and criticized across the Web, and predictably, a number of outraged Deen fans subsequently launched a boycott against the network.
Has the backlash hurt?
It's hard to say precisely. Deen's ratings were down prior to the controversy, as various publications noted at the time. Likewise, Food Network's overall numbers were weakening during the first half of the year. A look at the network's ratings in the months since reveals that cutting Deen loose hasn't made the situation dramatically worse—but nor has it helped.
According to Nielsen data, in the period from June 24 to Oct. 6, ratings at Food Network were down in several key categories vs. the same period in 2012. Among total viewers, Food Network's audience dipped 6 percent during prime time and 3 percent between the hours of 10 a.m. and 4:30 p.m. Among the key 18-to-49 demographic, the network's audience decreased 13 percent during prime time and 10.8 percent between 10:00 a.m. and 4:30 p.m.
Brad Adgate, senior vice-president at Horizon Media, says the network's continued dip could be related to any number of factors that have nothing to do with blowback from so-called Deenosaurs. Part of it could be cyclical programming attrition, he says. Part of it could be digital encroachment.
"There's an ebb and flow to these types of networks," says Adgate. "But I think they're still pretty solid. They are the category leader. They have over a million viewers every night. Advertisers love it. And they've invested a lot in new programming. If they put on a couple of shows that click, they'll be right back."