NFL Bettors Don't Know What to Do With the Biggest Spread of All Time
by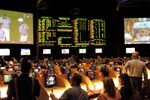 Las Vegas bookmakers are calling this Sunday's game between the undefeated, record-breaking, naked-bootlegging Denver Broncos and the defeated, drown-your-sorrows, sorry-you-have-to-see-this Jacksonville Jaguars the most lopsided NFL game ever, with the Broncos favored by as many as 28 points. The matchup stretches the margins of NFL disparity and, so far, is baffling bettors.
"I don't know that the public knows what to do with it, or if anybody really knows what to do with it," says Johnny Avello, director of race and sports at the Wynn Las Vegas. The spread at the Wynn currently sits at 27 points, the highest Avello can recall. He set it at 27.5 on Sunday afternoon. The first bet was a large one in favor of the Jaguars that brought the number down to where it is. This, Avello says, tends to be the pattern with large spreads. Sophisticated bettors, known as "sharps," take the underdogs and the points.
"They are usually on the plus," says Avello. "If a game [spread] is 17, they are usually on the plus. If it's 20, which we don't see much, they are usually taking the 20." These sharps don't see some quality or defect that the rest of us are missing. They are simply betting on the tendency of NFL teams to limit damage. "This isn't college football, where it's Oregon or Baylor and they are up by 31 in the second half and they are trying to go full bore and win the game by 50," says Avello. "Pro football players are happy to get out with a W and no injuries." If a rout is on, the winning team usually pulls its starters and plays it safe.
In the case of Denver and Jacksonville, the Wynn hasn't seen much action yet and expects a low handle. Bettors have little interest in the game itself. They are unaccustomed to such a wide spread. And the smart money is ready to line up against them. "I can't see anyone making a large wager on Denver, laying that type of points," says Avello. "I don't see it."
Before it's here, it's on the Bloomberg Terminal.
LEARN MORE