pursuits
LinkedIn Wants You to Bring Your Parents to Work
By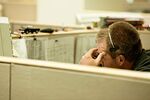 First there was Take Our Daughters To Work Day, a feminist-inflected program to inspire professional ambition in little girls. That expanded to include sons, because, after all, boys need career goals too. So perhaps it was only a matter of time, in this age of helicopter parents and boomerang kids, before Take Your Parents to Work Day would arrive.
LinkedIn has designated Nov. 7 as Bring In Your Parents Day and is encouraging other companies to participate. Deutsche Bank, Edelman Financial, Logitech International, and Regus have already signed on to host their own events. This won't be the first official parents-in-the-office day: Google has twice hosted its own version.
The point, according to LinkedIn, is still to demystify the world of work. A survey by the careerist social network found that one out of three parents don't understand what their kids do. That's fair. The nature and tools of work have changed immeasurably. Twenty years ago, there were no user-experience designers or chief awesome officers; computers didn't sit on every desk; people wore suits, and offices had doors. "It's bridging a gap that will make for better relationships," Danielle Restivo, says LinkedIn's head of global corporate communications.
It's all very thoughtful and Sister Sledge, born of the same impulse that begets a ping-pong table in the break room and a communal fridge full of Dos Equis. It's also a little offensive, oblivious to the fact that people over 50 have been among the hardest hit by the economic shifts of the past decade, priced out and aged out of the changing job market. That's challenging enough without being offered a pound by your son's supercool boss.
On the other hand, orchestrating a day of parental visits may have its merits. For employees, it spreads out the persistent risk of mild embarrassment across the workforce—everyone is too worried about his own parents' potential mangling of the boss's name to notice when your mom slips several packets of Emergen-C into her purse. For bosses, a critical mass of parents makes it harder for any single zealot to inquire about a promotion for Junior. This is the same reason schools host parent-teacher nights with scheduled time slots.
An office drive-by is not inherently a bad thing. Plenty of parents are genuinely curious about where their children work. There's something thrilling about seeing an adult child thriving in the world of work, moving effectively among colleagues who will never know that he slept with a baby blanket until he was 17. LinkedIn organized a trial event in its Dublin office this summer to see how it would work before promoting it as an international affair. About 100 parents came, mostly ages 55 to 70, and "We found it was really successful," Restivo says.
They discovered that a lot of parents simply wanted to know how the company is doing and whether it was a good place for their son or daughter. In the end, many parents aren't too concerned about the minutia of what their kids do on a daily basis, as long as it's legal, satisfying, and keeps them out of the basement. That doesn't need its own, organized, infantilizing day. It just needs a lunch date or an afternoon coffee, complete with a quick office tour—emphasis on the quick.
— With assistance by Venessa Wong
Before it's here, it's on the Bloomberg Terminal.
LEARN MORE