Lane Bryant Believes Couture Can Be Big
by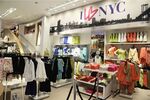 Lane Bryant is stitching something closer to haute couture into its line of clothes for bigger women, tapping a design duo best known for creating the First Lady's 2009 inauguration outfit for a new fashion line. The T-shirts and bags designed by Isabel and Ruben Toledo are set to hit most of Lane Bryant's 800 or so stores in time for the holidays, and a wider collection of clothes and accessories is expected for spring.
The move is part of a strategy shift by Ascena Retail Group, which bought Lane Bryant last year for $890 million. In a pitch to investors today, Ascena said Lane Bryant had grown a little stale and was overly focused on older consumers. Now the company is trying to dial up the brand's fashion to win younger consumers in the "plus size" category.
The partnership with the Toledos marks the first step in that direction. Here's how Lane Bryant's chief executive, Linda Heasley, described it in a statement:
Finally, we're looking together at all product categories and nothing is being ruled out as a possibility for inclusion down the road. This is a big deal for us and we're treating it in that manner in every way we can.
Plenty of high-end designers craft clothes for the mass market. Target, in particular, is known for its annual designer collaboration. But couture has been pretty haughty about average and above-average-size customers.
Of course, high fashion by design is somewhat inaccessible—a little hard to get, even if you can fit into the runway's finest. Scarcity sells, as does aspiration, and nearly everyone, regardless of size, buys clothes to look better. But high fashion seems to be starving itself on the sales front. Most design labels don't go above a size 14, which is widely considered the average size of U.S. women. Some 57 percent of U.S. women wear some clothing in size 16 or above, according to a recent survey by the online apparel store ModCloth.
So high fashion is actively cutting its potential market in half; it's as if Amazon.com refused to ship east of the Mississippi river. If that dynamic holds up, a savvy fashion house could make for some beautiful, plus-size returns at Ascena.
Before it's here, it's on the Bloomberg Terminal.
LEARN MORE