Is Airport Noise Making You Sick?
By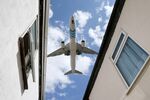 Living near an airport can increase your risk of having a heart attack or stroke. That's the disturbing conclusion of two new studies that found increased rates of cardiovascular disease among people exposed to high levels of aircraft noise.
U.K. researchers, in a paper published on Wednesday in the British Medical Journal, said the incidence of strokes and heart disease increased with people's proximity to London Heathrow Airport.
In a separate U.S. study financed by the Federal Aviation Administration and also published by BMJ, researchers found that Medicare recipients who were exposed to the highest levels of airport noise were also more likely to have been hospitalized for heart disease.
In both studies, researchers used controls to adjust for other potential risk factors such as income levels, cigarette smoking, and air pollution.
In an editorial, BMJ says the new studies "add to the research evidence linking noise exposure and cardiovascular disease." Earlier research in Europe found links between aircraft noise and high blood pressure, a key cardiovascular risk factor. "The siting of airports and consequent exposure to aircraft noise may have direct effects on the health of the surrounding population," the editorial says.
A press spokesman at the Montreal headquarters of the Airports Council International, a leading airport trade association, said he had not seen the studies and had no immediate comment. The FAA says noise levels over 65 decibels are unsuitable for residential areas. The new studies, however, found elevated rates of cardiovascular illnesses for people exposed to more than 55 decibels of airport noise.(For a guide to decibel levels from common noise sources, click here.)
How dangerous is your local airport? Data reported by Los Angeles International Airport and New York's John F. Kennedy Airport show that tens of thousands of nearby residents are routinely exposed to aircraft noise levels over 65 decibels.
Not all airports report how many local residents are being exposed to high noise levels, though. Some simply post data gathered from recording stations or report the size of the land area exposed to excessive noise, without saying how many people are being affected. And some airports, such as Dallas-Fort Worth, don't post any noise data at all on their websites.
Here are reports from five major U.S. airports:
Hartsfield-Jackson Atlanta
A 2010 report (PDF) said that an area slightly less than 20 square miles around the airport was exposed to noise levels of 65 decibels or more. It didn't say how many people live there.
Chicago O'Hare
A July 2013 report (PDF) on ORD's website says that over the preceding 12 months, average readings at 32 noise-measurement stations around the airport ranged from 54.4 decibels to 76.1 decibels. It didn't say how many people live around those stations.
Los Angeles International
For the first quarter of 2013, LAX reported (PDF) that 42,707 people living near the airport were being exposed to noise levels of 65 decibels or greater, while 12,335 were exposed to more than 70 decibels, and 434 were exposed to at least 75 decibels.
New York John F. Kennedy
A 2012 environmental assessment (PDF) says that in 2010 and 2011, some 33,764 people living near JFK were exposed to noise levels from 65 to 70 decibels, and 2,416 were exposed to from 70 to 75 decibels.
Washington Dulles
A 2012 report by the Metropolitan Washington Airports Authority (PDF) lists noise levels recorded at 21 sites near Dulles without saying how many people live near those sites. The report says that aircraft noise at all the sites was below 65 decibels, but that when aircraft noise was added to noise from other sources such as traffic, the total level at several sites often exceeded 65 decibels and in some cases exceeded 70 decibels.
Links to data on additional airports can be found through the FAA website.
Before it's here, it's on the Bloomberg Terminal.
LEARN MORE