Government Workers Go Back to the Office With No Payday In Sight
By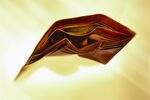 The government closed on Oct. 1 because Republicans and Democrats in Congress couldn't agree on a budget for this fiscal year, and federal employees can't work without pay. Everyone but workers with jobs deemed essential had to go home and stay there.
How odd, then, that in recent days, thousands of federal employees have been called back to the job. The Pentagon has brought back 350,000. The FAA, 800. And on Tuesday, the CDC told 30 workers they were needed. Why are they able to return?
The American Federation of Government Employees, a union that represents 650,000 federal workers, says they can return because something changed that presented a threat to public safety, which made their agency decide they're now essential. The CDC workers, for instance, were called back because of a sudden outbreak of salmonella.
This doesn't mean that workers who are called back get to stay. So long as the shutdown continues, they'll stay only until whatever emergency they're dealing with gets resolved. At FEMA, about 200 workers' furloughs were adjourned when the threat of Tropical Storm Karen appeared dire. After the threat passed, workers were once again sent home.
Who's paying those who get called in from their forced vacation? Officially, none of the government workers who clock in during the shutdown are getting paid. That goes for people who were originally deemed essential, such as prison guards and border patrol agents, as well as anyone who gets called back in for any length of time, as at the CDC. (Federal employees will get a paycheck in the coming days that covers the pay period that ended Sept. 30.)
The Pentagon's an exception. It found a workaround and was able to call back 90 of its workers on the basis that they're needed to support the military. The employees are getting paid because, just before the shutdown, Congress passed legislation that guaranteed military and civilian Pentagon workers who clock in during a government closure would get a check.
The FAA also appears to have found a way to get its 800 workers back on the job. According to various news reports, the agency called back some inspectors and others involved in oversight. There are no mentions of threats to public safety or even emergencies. (None of the reports suggest that recalled FAA workers are getting paid.)
So let's get this straight: The government closed because federal workers can't work without getting paid. But in the midst of the shutdown, agencies are finding ways for people to work. Doesn't this make you wonder why we had to close the doors in the first place?
Before it's here, it's on the Bloomberg Terminal.
LEARN MORE