GOP Wants Yellen to Follow the Rules ... but Be Creative!
By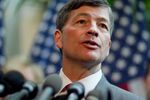 A press release from a top Republican congressman today shows the hoops that Janet Yellen will have to jump through to win confirmation as the next chairman of the Federal Reserve.
Financial Services Committee Chairman Jeb Hensarling of Texas used the word "rules" three times in one paragraph, saying that he hopes that Yellen, if confirmed, will "adopt a more transparent and rules-based monetary policy." But then turning to Ben Bernanke, he praised the current Fed chair for being creative, which is kind of the opposite of being a rule-follower. "During some of our economy's darkest days, he acted boldly, decisively, creatively—very creatively, I might add," Hensarling said in his statement.
So Yellen's mission in confirmation hearings is to demonstrate that she can be creative in a crisis—like Bernanke or her erstwhile rival for the job, former Treasury Secretary Lawrence Summers—while also showing that she will stick to the playbook, which aims to achieve stable, non-inflationary growth through monetary policy that follows publicly announced objectives.
Yellen, 67, who is currently the Fed's vice chair, would if confirmed by the Senate become the first woman to head the U.S. central bank. President Obama is scheduled to announce her nomination formally today at 3 p.m. Early political soundings indicate that she has a good shot at winning confirmation, despite the contradictory demands put on her. When Yellen became vice chairman of the Fed in 2010, as Bloomberg News notes, she passed the Senate Banking Committee with a vote of 17-6. There are now 12 Democrats and 10 Republicans on the committee.
There will be hoops, though. Senator Bob Corker, one of the top Republicans on the banking committee, said Yellen's record will come under scrutiny. "I voted against Vice Chairman Yellen's original nomination to the Fed in 2010 because of her dovish views on monetary policy," the Tennessee senator said in a statement. "We will closely examine her record since that time, but I am not aware of anything that demonstrates her views have changed."
Hensarling doesn't have a vote on Yellen's confirmation because he's in the House. It's nonetheless a favorable sign to Yellen that the influential congressman said, "I congratulate Dr. Yellen on her nomination."
Before it's here, it's on the Bloomberg Terminal.
LEARN MORE