Fitness, Family, and Facial Hair: How Furloughed Workers Pass the Time
Government Shutdown: Furloughed Workers on How They're Passing the Time
By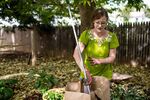 It's day nine of the furloughs that have forced many federal workers and contractors to go without pay. While some government employees have been called back, two recent examples show how the government shutdown continues to wind its way through workplaces public and private: the Veterans Administration shut its regional offices that process benefits, leaving 7,000 employees furloughed, and Lockheed Martin has put 2,400 people out of work for now.
Federal employees will likely eventually get their back-pay. For contractors and other private-sector workers, that's not as clear. But everyone faces the question of what to do with all their newfound free time. Here's a quick social-media guide to life among the furloughed, in which the idled workers explain what they've been doing so far:
It's a chance to get fit.
Or tackle the to-do list.
A time to connect with the kids.
And check out the beach.
At least you don't need to wear a suit.

And friends have been supportive.
Then there's the #furloughbeards. They seemed like a good idea at first.
Got a pretty nice furlough beard going on here. Think I'm gonna let it grow until we go back.

— gsp (@gsp1984) October 4, 2013
But then even the beards started to get old. They were itchy.
My #furlough beard is now entering its scratchy phase.

— Matt Wilson (@mttwls) October 7, 2013
Turns out they don't make you look youthful.
Some people tried to spice them up.
Others gave up on them entirely.
Well, there's always QVC.
Before it's here, it's on the Bloomberg Terminal.
LEARN MORE