Costco Stands Behind Its Cheap Rotisserie Chicken Strategy
by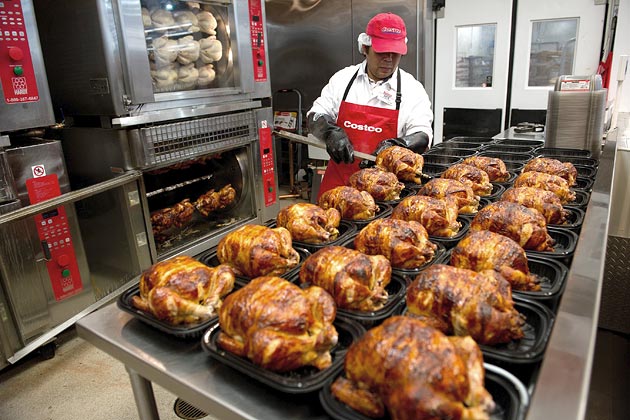 Costco Wholesale posted disappointing financial results this morning, with just 1 percent growth in sales and similarly slim gains in profit as the chain of almost 650 warehouse stores felt the pinch of higher costs, currency-exchange swings, and lower gas prices.
But when analysts started piling on Costco in a conference call this morning, Chief Financial Officer Richard Galanti served up a bit of barnyard wisdom: He urged Wall Street to think of our "incredible, giant" rotisserie chickens.
The company sells 60 million of those birds every year, keeping the price at $4.99 despite surging costs for both poultry itself and chicken feed. "That's us," Galanti said of the stubbornly low prices. "That's what we do." In other words: Don't freak out about this quarter—Costco sees itself playing the long game.
Could Costco raise prices? Certainly. But Galanti pointed out that the company has garnered a lot of positive press from its chickens—the birds even have a Facebook page)—and margins will likely improve in coming months when commodity prices are expected to come down. Sure, cheap chicken and other heavy discounts for which Costco is known makes for some lean results, but a retail giant can go a little hungry once in a while—and certainly for much longer than smaller rivals. "I think we do better when we're reducing prices and driving business," Galanti said. "And overall, that's good for us—better than for others."
The folksy metaphor might have even been persuasive. Costco shares slumped about 2 percent in early trading, but as Galanti started spinning his chicken stories around 10 a.m., the stock climbed all the way back.
Before it's here, it's on the Bloomberg Terminal.
LEARN MORE