Cockroaches, Rats, Hair in Your Food: Send Your Photos
By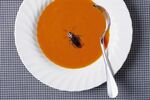 Food photos are the second most shared photos after selfies. So maybe it was only a matter of time before someone decided to gather pictures of the less savory aspects of our meals: the dangerous ways people prepare food, the grossly inadequate safety precautions taken, and the just gross. You can find them all on the Citizen Food Safety Tumblr site started by Benjamin Chapman, a food safety expert at North Carolina State University. He announced it on barfblog.
You could imagine all sorts of activity emerging from this, but for now, Chapman says he wants only to encourage foodies to ask questions about the safety of what they eat. It's citizen science, not vigilantism. In this noble version of life on the Internet, the photos will be conversation starters. "There's just too many illnesses from foodborne pathogens, about 48 million a year," he says. "There's a lot of interventions out there, and we haven't seen the payoff in reduction of illnesses." The latest salmonella outbreak has already sickened 278 people.
There's also the possibility that someone will send him a photo of a Taco Bell employee lickinga stack of taco shells. Whether it's rats, a fast-food employee sneezing into your drink, or a dude eating Ramen noodles out of a bowl he made with his beard, Chapman wants to see it—in the name of education. "We've seen lipstick on a drinking glass, I'm sure we'll see hair on pizza, cockroaches in restaurants," he says. "There's a yuck factor in those, but they're not as risky as someone handling raw meat and then not washing their hands before making a salad."
Similar projects in South Korea and Britain went one step further by asking people to send their offending photos to health inspectors. Chapman isn't encouraging that. "This isn't meant to out restaurants," he says. Nor is he encouraging people to sneak onto corporate farms or into fast-food kitchens. But "if it does get crazy, that means people are interested," he says. "Hopefully no one ends up in jail."
Before it's here, it's on the Bloomberg Terminal.
LEARN MORE