Birdbrains? Not These Stars of 'Earthflight': TV Review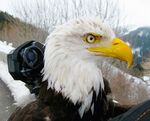 Because my eccentric Latvian mother had read "The Snow Goose" by Paul Gallico, briefly a favorite author, I grew up with Aida. Everyone else had a dog.
And now I realize she wasn't even a noble snow goose, a smart majestic bird that can fly 3,000 miles and, with a little luck, humiliate a bald eagle.
My Aida's confused waddling once took her down the rural road to the post office, but that was as far as she ever got before she disappeared, presumably in a Dickensian end to her very local life.
"Earthflight," a special presentation of "Nature" on PBS, is simply thrilling, a six-part mini-series devoted to more than 100 bird species in 40 countries.
Shaping the segments are the migrations that require astonishing navigational capacities, memory and fortitude. Every bird seems to have an appointment to keep, as the narrator notes, and perfect timing.
Not all make it. In one surprising scene, a baboon leaps out for a meal of fresh flamingo.
But millions more flamingos survive (filmed in a rare mass gathering), though the phrase "Nature raw in tooth and claw" lingers in the mind. One fast hawk, dive-bombing a cloud of bats, hooks one on each claw.
Dinner Time
The shows take us from hectic New York City (with 250 kinds of birds) to the fairytale beauty of Hokkaido Island, where Japanese cranes execute their courtship pas de deux as snow mists their dark eyes and beaks. Worshipful locals bring them fish. Word has gotten out and as we watch in amazement, the banquet attracts a peaceful fox and a few eagles on the qui vive.
Producer John Downer spent four years with the BBC Natural History Unit, developing new techniques that let humans hitch a ride with their avian betters.
Tonight's program (the last, but all are available streaming at http://www.pbs.org/wnet/nature) shows how they were filmed using remote-controlled drones, floating spy-cams, paragliders and a fake vulture with a movable tail.
Outfitted with tiny harnesses bearing HD cameras, vultures, geese and condors soar above towns, rivers, citadels, deserts and fierce mountain ranges.
After an ethereal flight over the Himalayas, we land in crenelated Jodhpur, where vultures target evasive pigeons and cute rats play in the sun.
Training scenes include an idyllic stay with a French family who imprint geese, teaching them how to swim and fly. Even the family dog helps, padding around with hatchlings on his broad back.
Momma Bear
Each program features different types of birds and their integrated lives with others up and down the food chain.
That momma bear is a natural mugger as she looks up to bellow at the eagles and gulls so her cubs can finish their shore-side meal.
More unknowable are the manta rays who confound the experts as they launch themselves into the air. Can fish be happy?
As so often, "Nature" imparts wonder and curiosity.
(Manuela Hoelterhoff is executive editor of Muse, the arts and entertainment section of Bloomberg News. The opinions expressed are her own.)
Muse highlights include Jeffrey Burke on books, Lili Rosboch on art, Jeremy Gerard on theater.
Before it's here, it's on the Bloomberg Terminal.
LEARN MORE