Angry European Telcos Look to 'Uncle' Randall for Policy Advice
By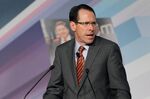 Carriers in Europe are mad. Executives from the region's biggest companies, such as Orange, Deutsche Telekom and Vodafone, spent yesterday in Brussels railing against new rules that would eliminate roaming charges between the continent's countries.
The regulations, put forward by EU commissioner Neelie Kroes , cut off an important source of revenue and don't do enough to encourage investment in newer, faster networks, they said.
"I am still surprised by people that are thinking that we are going to increase our investment by cutting our resources ," Orange CEO Stephane Richard said. "When we look at this package, I don't see anything substantial regarding investment because investment is linked to resources."
Carriers are being battered by price wars, which they say is due to heavy competition in relatively small countries. They want merger restrictions to be eased and regulations across the two dozen-plus EU nations to be more uniform.
Kroes -- in charge of tech and telecom for the bloc, not competition -- has made concessions to the industry, proposing to standardize spectrum auctions across Europe and make it easier for carriers to build Europe-wide networks. Still, she thinks the industry should suck it up.
"Ultimately roaming is on its way out, one way or the other," she said in Brussels yesterday. "It's time to surrender the unsustainable -- and face the great opportunities of the future."
What both sides agree on is the wireless industry's success in the U.S. American carriers beat most of Europe to rolling out faster, higher capacity fourth-generation mobile networks. They can also charge more for services and Americans don't worry about paying extra to make calls or access the Internet on their mobiles outside of their home state.
AT&T CEO Randall Stephenson -- dubbed "the American uncle" by Sanford C. Bernstein analyst Robin Bienenstock, who also spoke at the conference -- flew in from Dallas to explain the winning formula in Brussels.
"Commissioner Kroes' Telecoms reform package has become a political football in an almost tangible sense," Bienenstock said in a note today. It "got a proper kicking and as ever, precious little was achieved."
"Uncle" Randall said that policies for doling out spectrum, airwaves auctioned by countries that carry mobile signals, will dictate how much effort carriers put into keeping up infrastructure. Giving operators rights to longer licenses for the airwaves that last for several decades, allowing carriers to swap spectrum bands to maximize their holdings and selling licenses for larger territories will motivate carriers to build better networks, confident they can recoup the investment.
A friendlier regulatory environment in Europe is in Stephenson's interest, too. AT&T is said to be looking at a major purchase in Europe and has considered buying Vodafone among others, according to people familiar with the plans. Stephenson declined to comment on his interest in a purchase yesterday.
"I continue to be fascinated and surprised by how slow it's moving in Europe," Stephenson said. "I see that as a huge opportunity for somebody."
Wink.