Americans Are Rich but Not Very Competent
By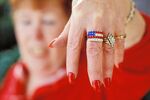 The good news for Americans in a new international study of adult skills is that the U.S. ranks near the top in gross domestic product per capita, behind only Norway.
The bad news is that Americans are so far behind in their skills that it's hard to see how they can stay at the top for long.
The figures are contained in a report by the Organization for Economic Cooperation & Development called OECD Skills Outlook 2013 (pdf). It was released on Oct. 8. The OECD is an organization of relatively wealthy, industrialized nations.
Here are the OECD countries in the study with a bigger share of adults aged 16 to 64 in the top two levels of literacy, listed from the top down:
Japan, Finland, Netherlands, Sweden, Australia, Norway, Estonia, Slovenia, Flanders (part of Belgium), Canada, Czech Republic, Denmark, South Korea, England and Northern Ireland, and Germany.
Then comes the U.S.
After that are Austria, Poland, Ireland, France, Cyprus, Spain, and, in last place, Italy.
In numeracy the U.S. comes out even worse, ahead of only Italy and Spain. And when the OECD breaks down the numeracy of just 16- to 24-year-olds, the U.S. is in last place.
Remarkably for the nation that's home to Silicon Valley, the U.S. was also last (among countries for which there were complete data) in "proficiency in problem-solving in technology-rich environments among young adults." South Korea and Finland were Nos. 1 and 2.
This is a problem. As the OECD puts it: "Being able to read, understand and respond appropriately to numerical and mathematical information are skills that are essential for full social and economic participation."
New York Times business columnist Eduardo Porter wrote about the OECD study in today's New York Times and tried to puzzle out how the U.S. has managed to stay so rich with a relatively unimpressive workforce. "Japan has fantastic human capital but uses it quite poorly," Andreas Schleicher, the OECD deputy director for education and skills, told Porter. "The United States is the opposite. It has mediocre assets but is good at extracting value from them."
The U.S. makes the most of its workforce by rewarding the best and firing the worst. Women are given opportunities for advancement. Japan, which doesn't do any of those things, could make huge strides simply by reorganizing work. In the U.S., Porter writes, "human capital has to be painstakingly built, one cohort at a time."
Before it's here, it's on the Bloomberg Terminal.
LEARN MORE