Alitalia Flies on Fumes Into Familiar Financial Turbulence
By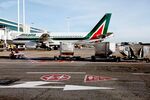 For people in the airline industry, there's a certain financial deja vu around Italian flag carrier Alitalia. The pattern plays like this: When the airline runs into a cash crunch, government officials, investors, and employees howl, a rescue package is assembled, and the company lives to fly another day. Fast-forward three or four years and repeat the cycle.
That's where the company is as it heads into Thursday's shareholder meeting, by which time Italy's leaders are expected to have decided what measures are needed to keep the airline from collapsing. Adding to the pressure, Italian energy company Eni says it won't supply jet fuel after Saturday unless it is paid some of the €30 million ($40.7 million) the airline owes it. Alitalia said on Tuesday that its board is confident of sorting out its immediate financial needs, "given the willingness expressed by the shareholders and the banking system, that the company's financial situation will be promptly resolved."
The airline hasn't turned a profit in more than a decade and is seeking at least €100 million to keep flying. Bloomberg News reported that Italy's prime minister, Enrico Letta, wants a state-owned firm to invest funds to keep Alitalia afloat and then press for a merger or strategic partnership with a foreign carrier. Air France-KLM already owns 25 percent of the company. "I'm sure that Alitalia can't go it alone," Letta said earlier this week in an Italian television interview. "Italy doesn't have the size for a global flagship. We have to integrate with others."
But Air France-KLM, which is in the midst of its own cost restructuring, "would like to buy Alitalia as cheaply as possible, preferably without having to take on its debt, while the Italian shareholders want to get something out of this as well," Andrea Giuricin, a transport analyst in Milan, told Reuters.
The downturn in Europe, especially for the southern economies, has been particularly brutal for Alitalia. Rivals such as Lufthansa, EasyJet, and Ryanair Holdings have sought to gain share in Italy's domestic market. Emirates began a new flight from Milan to New York last week, seeing commercial opportunity amid the regional travails. Alitalia has struggled to fill planes, sporting a load factor of 73 percent in the first half of the year. Its larger partner in the global SkyTeam alliance, Delta Air Lines, had a load factor 10 percentage points higher in the same period.
Before it's here, it's on the Bloomberg Terminal.
LEARN MORE