Wolverine Sees Huge Upside in Top-Siders
By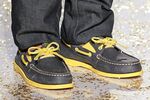 The old-fashioned, unadorned boat shoe is getting better traction than ever. Sperry Top-Sider, now owned by the company that makes Wolverine boots, has posted double-digit percent sales gains for 16 consecutive quarters on Wall Street—that's four years on Cape Cod or the coast of Connecticut.
How impressive is that feat? In the same period, Nike has notched just four quarters of sales gains of more than 10 percent. Wolverine World Wide Chief Executive Officer Blake Krueger called the Top-Sider momentum "simply phenomenal" during a call with analysts and investors this morning.
Part of the Sperry story is fashion. Top-Siders, like so much other apparel that was hot in the 1980s, have caught up with trends once again. Originally they were developed by a former naval officer looking to replicate the grip of his cocker spaniel's paws, or so the story goes. Today, tastemakers are recommending the brand's garish offerings—including orange and pink models. College kids in Oklahoma are crowing about them. Even dogs love them—adorable Golden Retrievers in particular.
Fueling the fashion renaissance was a commitment to better leather and some partnerships with powerful designers and brands, including Band of Outsiders, J.Crew, and Penfield, which makes a popular line of bags and coats.
Meanwhile, Top-Siders have made some big jumps overseas, thanks in part to Wolverine, which bought Sperry a year ago, along with Saucony, Stride Rite, and Keds—a bevvy of footwear that was packaged as Collective Brands. The shoe giant pushed Sperry into 67 new markets since it bought the brand, including a recent agreement to distribute them in China.
Not surprisingly, a wave of financial returns is pouring into Wolverine's headquarters just north of Grand Rapids, Mich. The company said revenue in the recent quarter more than doubled, while profit increased 66 percent. The company also raised its full-year outlook.
Wolverine CEO Krueger called the Sperry acquisition a game-changer: "The past 12 months have been the most transformative period in the company's 130-year history," he said this morning. Not shabby for a 78-year-old pair of shoes.