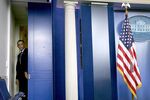 President Obama had plenty of strong statements during his lengthy press conference today. He said the country would face a "very deep recession" if Congress doesn't raise the debt ceiling. He said Republicans are holding the country "hostage" and that they can't just "wish away chaos." But his words were squishier on one topic: whether he'd accept a deal that prioritizes which debts the U.S. will repay first.
This is the idea that the government can technically avoid a default if it pays bondholders before paying back obligations such as Social Security benefits. When Bloomberg's Julianna Goldman asked Obama about whether he's going along with such a plan, the president wouldn't directly answer the question: "I am going to continue to be very hopeful that Congress doesn't put us in that position," he said.
That's not to say he was warm to the idea. Obama said the country's credit rating would suffer and borrowing costs would rise if the markets think the government is "not paying all of our bills on time"—"all" being the operative word. That echoes the sentiment top Wall Street executives have been telling lawmakers, according to a front-page story in today's Wall Street Journal. Obama said the government's obligations include payments to contractors, benefits for veterans, and Social Security checks for seniors.
Later, when pressed again on the topic, Obama said he didn't want to say too much because he knows every word he mentioned would be parsed for meaning. He's right—just look at the Federal Reserve's struggles to communicate, or this very blog post. Obama said he'd prefer to defer to Treasury Secretary Jack Lew, who's scheduled to testify in the Senate on Thursday. He said Lew will make a "formal presentation" then and address the issue. So mark your calendar. Thursday is now officially "debt prioritization" day.
Before it's here, it's on the Bloomberg Terminal.
LEARN MORE