Startups Seek Profits in Obamacare's Fine Print
by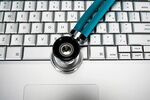 Earlier this month, Anthony Presley pulled up to the Lubbock, Tex., office of TimeForge, his labor management software company, as 100 copies of his new book, Obamacare: A Handbook for Employers were being delivered. Sparked by a flood of questions about the law's implementation from restaurants and retail outlets that use Presley's software to track their shift workers, TimeForge self-published the handbook through Amazon
Though it doesn't sound like an obvious bestseller, Presley calculates that its sales–at $39 for electronic formats and $49 for hardcover–will boost his company's revenue this year. "I'd be happy with 15 percent. The reality is that it'll probably be significantly more than that," he says.
Big accounting, legal, and consulting companies have been capitalizing on the complexity of the Affordable Care Act for months. With the recent rollout of the Obamacare marketplaces, small businesses and freelance benefits consultants are following suit by selling consulting services, workshops, and videos that explain the Affordable Care Act to individuals and employers.
Pre-sales are already close to 1,000 copies, Presley says, with many software sales representatives buying multiples to give to their customers. Presley is selling individual copies and bundling 10 handbooks with spreadsheets, software, and insurance consultations for $500.
Interest and trepidation are running high, particularly among small employers. "I talked to a gentleman yesterday who runs a grocery store in Alabama. He had taken the health-care exchange notices, printed them out by hand, and was having employees sign in front of a witness and taking pictures. There's a lot of panic out there," Presley says. "He doesn't have time to deal with the IRS."
Keith Kitani, chief executive and co-founder of GuideSpark, a 50-employee Silicon Valley company that produces human resources videos, says he realized six months ago  that employers would benefit from help communicating the major changes resulting from Obamacare. He added a series of three Affordable Care Act-related videos to GuideSpark's library.
Two-thirds of Kitani's customers have purchased the short animated videos, he says. They include an overview of the law, a primer on ACA insurance marketplaces, and a session on 2014 benefits—and how health-care reform will or will not affect an employer's benefits package. Kitani is heartened by the response. "It's not the largest part of our business, which is around a broad set of employee communications, but this is pretty substantial in such a short period of time," he notes.
Insurance consultants and brokers are getting into the act, too. Boston-based Maxwell Health, a benefits-management software company, has posted its Affordable Care Act starter course on Huffington Post. Founded by brothers Veer and Vinay Gidwaney in February 2013, the 12-employee startup's software helps mostly small employers set up and manage their health care offerings for employees. Some of Maxwell's target customers are benefits advisers who are working with small companies to navigate the new health-care landscape. "The ACA is on everybody's mind now. We weren't founded just to do this, but we are finding we can help companies rethink what role they want to play when it comes to benefits," Veer Gidwaney says.
He emphasizes the complexity for employers. "Many companies have certain individuals who would qualify for [federal government] subsidies and they should go to the [ACA] exchanges. They have other employees who'd be better off with company-provided health-care benefits. It's hard for small businesses to determine what's best for them."
Karen Albanese, a 20-year veteran of the corporate employee benefits industry, is betting that specific provisions of the Affordable Care Act will spark a sea change in the way insurance is delivered in the U.S. In April, the La Canada, Calif., entrepreneur and her business partner, Dan Peate, founded Hixme, a venture-backed consulting company, to help manage that change.
Hixme is working with employers interested in shifting out of providing group insurance in favor of subsidizing their employees' purchases of individual policies, either through Obamacare exchanges or private health-insurance exchanges. Employers with over 50 full-time workers can opt out of providing mandated group health insurance without incurring penalties if their plans are structured correctly, she says.
"We are trying to liberate employers who are paying for something whose costs they have no control over and which are rising by 10 or 15 percent a year," Albanese says. "Because the ACA eliminates pre-existing conditions limitations, employers are no longer morally obligated to provide insurance. And employees have much more freedom to choose the right insurance for them, based on what they specifically need."
She estimates that within the next five years, "what we're doing will be the way Americans buy insurance. It's the wave of the future."
Before it's here, it's on the Bloomberg Terminal.
LEARN MORE