Porsche Targets 2014 Profit Increase on Macan, 918 Spyder
Christoph Rauwald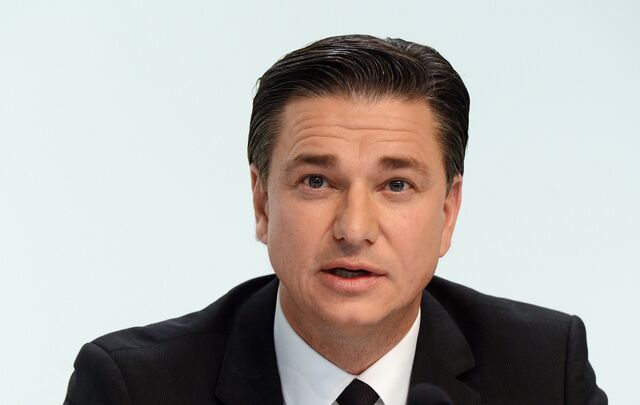 Porsche AG said profit growth is likely to resume in 2014 as the Macan compact sport-utility vehicle and the 918 Spyder hybrid join the product lineup.
The Volkswagen AG brand is targeting an increase in earnings before interest and taxes next year after a jump in spending on new vehicles prevents operating profit from rising in 2013, Porsche Chief Financial Officer Lutz Meschke said.
"Expenses for the capacity expansion and the new model lines will be significantly higher in the second half of the year than in the first half," Meschke said in an interview at Porsche headquarters in Stuttgart, Germany. Increasing profit in 2014 "is the goal."
Volkswagen, Europe's biggest carmaker, acquired full control of Porsche's automaking operations in August 2012. Earnings from the division and other luxury brands such as Audi and Bentley have helped Wolfsburg, Germany-based VW cushion the fallout from economic woes in its home region, where demand for new cars is at a two-decade low amid unemployment rates lingering near record highs.
"I expect Porsche earnings to rise next year," said Daniel Schwarz, a Frankfurt-based analyst at Commerzbank AG. "The Macan is set to be the key earnings driver in 2014, especially in the second half of the year. The 911 lineup should also reach its peak."
Higher Investments
Investments by Porsche this year will exceed 1.3 billion euros ($1.76 billion), and will then total more than 1 billion euros annually as of 2014, Meschke said. The business will continue to fund projects from operating cash flow, and its automotive unit has no plan to seek resources in the capital market, the CFO said.
"We're in a very good position in terms of financing," he said in the interview last week.
Porsche accounted for 1.29 billion euros of Volkswagen's first-half operating profit of 5.78 billion euros, making it the third-largest earnings contributor after Audi and the mass-market VW passenger-car brand. The division's operating return on sales of 18 percent makes it one of the world's most profitable car manufacturers.
Long-term financing at Porsche includes a 1 billion-euro bond maturing in 2016 and 500 million euros in promissory notes issued in 2012 that span four to six years. Following the integration into Volkswagen last year, the division also has access to internal credit lines on cheaper terms than on the external market, Meschke said.
"We want to get rid of net debt completely over the next two years," the CFO said.
Leipzig Expansion
The Macan's development includes a 500 million-euro project begun in 2011 to add a production hall and paint shop at Porsche's factory in Leipzig, Germany, where the company builds the Cayenne SUV and four-door Panamera coupe. The carmaker is adding 1,500 jobs at the site, more than doubling the plant's workforce, meaning substantial personnel costs must be booked this year before the Macan reaches showrooms, Meschke said.
Porsche is developing V8 engines that can be used by Audi or Bentley, enabling the divisions to share production costs. It plans to build an engine factory near its Stuttgart headquarters as well as a body-production site as of 2017 or 2018 for a new version of the 911.
"We will probably need a new body shop for the next 911 generation, because existing capacities aren't sufficient," Meschke said.
Expanding Porsche's facilities in Leipzig and Stuttgart is part of a broader push to widen the model range and boost sales.
Beating Deadline
Porsche will reach a target of selling more than 200,000 vehicles a year in 2015 or 2016, about three years earlier than planned, Chief Executive Matthias Mueller told reporters in September. Eight-month sales rose 15 percent from a year earlier to "about" 107,000 cars and SUVs, keeping Porsche on track to cross the 150,000-delivery threshold this year for the first time, he said. The division handed over a record 143,096 cars and SUVs to customers in 2012, an increase of 22 percent.
Deliveries have "continued to develop positively to date, thanks to strong business in Asia and the U.S.," Meschke said. "In China, we see growth of 10 percent to 15 percent this year, and more in the direction of 15 percent." Sales growth in Europe may be "moderate" in 2014 as "the additional volume from the Macan should more than offset the weak overall market."
Spyder Production
Series production of the 918 Spyder starts this year, joining a lineup that includes revamped versions of the Boxster roadster and Cayman sports car that were made lighter and faster to shore up Porsche's reputation for performance. The Macan is scheduled to be available at dealers in early 2014, the year that the 911 removeable-roof targa also goes on sale.
Mueller outlined the possibility last year of adding a $250,000 sports car in a challenge to Fiat SpA's Ferrari brand once the Macan enters the Porsche fleet.
Meschke said he "could well imagine this product idea, but safeguarding the profitability targets remains crucial." A requirement for new products to reap an operating profit margin of at least 15 percent of revenue is "hard as iron. Otherwise the project doesn't get approved."
Before it's here, it's on the Bloomberg Terminal.
LEARN MORE