Unpaid Intern Is Ruled Not an 'Employee,' Not Protected From Sexual Harassment
By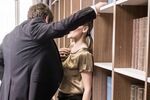 There's plenty for unpaid interns to complain about—mainly, the lack of money—but apparently it gets worse. Because they're not paid and don't receive remuneration such as pension and life insurance, interns don't always count as employees, which means they're not always entitled to certain employee protections. For one former unpaid broadcasting intern at Phoenix Satellite Television U.S., that means not being able to bring a sexual harassment claim against her former supervisor, according to a Bloomberg BNA report.
The intern alleging harassment, Lihuan Wang, filed a suit against Phoenix in January. According to the complaint, in early 2010, two weeks after Wang started working at the Chinese-language media company's New York office, her supervisor and bureau chief, Liu Zhengzhu, invited her and several co-workers to lunch. Wang claims Liu asked her to stay after the meal to discuss her work performance and then asked her to accompany him to his hotel so he could drop off a few things. In the hotel room, she alleges, Liu took off his jacket, untied his tie, and threw his arms around her, exclaiming, "Why are you so beautiful?" She claims Liu held her for about five seconds, tried to kiss her, and squeezed her buttocks. According to the complaint, Wang pushed Liu away and left the room, and when she later asked about job opportunities, Liu invited her to Atlantic City.
The U.S. District Court for the Southern District of New York found that because Wang was an unpaid intern, not an employee, she could not bring a claim under the New York City Human Rights Law. This discrepancy's not new: Unpaid interns aren't covered by Title VII of the 1964 Civil Rights Act, and while local laws can protect them, New York's state and city laws do not.
According to the court's decision, the New York City Council has had several opportunities to amend the law to protect unpaid interns but has declined to do so. "I am not at all surprised by Judge [Kevin] Castel's ruling," says Jones Day attorney M. Carter DeLorme, who is representing Phoenix.
Wang is still suing for failure to hire (not being hired because she didn't accede to Liu's alleged sexual demands). Phoenix denies that Wang ever applied for a position, that anyone was ever hired for a reporter position in New York since Wang's internship ended, and that Phoenix engaged in any discriminatory activity, DeLorme says. As for the substance of the harassment charges, DeLorme says Liu is no longer employed by Phoenix but adds that he hasn't spoken to Liu about the allegations in the suit. Liu could not be reached for comment.
Wang's attorney was not immediately available for comment. According to the suit, Wang currently resides in Shanghai.
Before it's here, it's on the Bloomberg Terminal.
LEARN MORE