Hong Kong Tycoon Li Ka-shing Looks West
By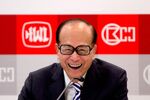 It was another rewarding day for Asia's richest man, Li Ka-shing.
The billionaire controls Hutchison Whampoa, a conglomerate with businesses in telecoms, retail, energy, and ports that is the biggest group in the Li empire, which also includes the city's top power company and one of its largest property developers.
Hutchison is on a roll. Today, Hutch's Hong Kong-listed shares hit a 12-year high, rising to nearly 100 Hong Kong dollars ($12.90). The stock price is up 32 percent this year, more than double the rise in the benchmark Hang Seng Index.
While Hutch may be a dominant force in the day-to-day life of Hong Kong people, one reason the stock is doing so well is investor confidence that Li Ka-shing is reducing his exposure in the former British colony by putting some of his Hong Kong jewels up for sale. For instance, he's now considering bids for ParknShop, the supermarket chain that is one of the two largest in the city. Among the bidders is Carlyle, according to reports in FinanceAsia and the Wall Street Journal: The U.S. private-equity group is teaming up with Thai conglomerate Charoen Pokphand Group to bid for the Hutchison-owned retailer, the publications reported.
A ParknShop sale would be just the highest-profile sell-off in a move that may greatly diminish the role Hong Kong plays in Li's strategy. Instead, he's looking to Europe. Despite the ongoing debt crisis in the euro zone, Li has been buying on the Continent: European assets last year accounted for 51 percent of Hutch's total, up from 42 percent in 2008. "He believes Europe's growth prospect is better than Hong Kong," BNP Paribas analyst Wee Liat Lee told Bloomberg News.
As the tycoon expands his investments in European telecom operators and utilities, Hong Kong is proving to be a useful place to raise cash by selling assets in well-developed but slow-growth businesses. Power Assets, the Li company that controls one of the two electricity providers in Hong Kong, last month disclosed plans to sell as much as 70 percent in a sale that could bring in $5 billion. Last week, Hutch's stock price soared following a report in the Hong Kong Economic Times of a possible spinoff of its health and beauty chain, A.S. Watson Group, that could raise as much as $10 billion. A spinoff would make A.S. Watson one of the biggest listed retailers in Asia by value, according to an Oct. 3 report from Standard Chartered that said a sale would be "an effective way to unlock shareholder value."