Government to Steven Cohen: Give Us $1.8 Billion
By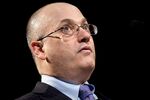 The government has given Steven Cohen a price tag for putting the criminal case against SAC Capital Advisors behind him, and it's $1.8 billion, according to people familiar with the matter. Taking into account the $600 million or so Cohen has already agreed to pay the Securities and Exchange Commission to settle a related civil case, for which Cohen's lawyers are arguing their client deserves credit, that would leave around $1.2 billion still to be paid to Manhattan U.S. Attorney Preet Bharara's office.
The deadline to accept the deal, according to the Financial Times, which first reported the $1.8 billion figure, is the beginning of November. And in a sort of inversion of what a typical negotiation looks like, in which both parties come forward with opening offers and end up meeting somewhere in the middle, the SAC camp was told that the longer it waits, the higher the price will be, according to the people familiar with the matter. The thinking is that as the process drags on, government prosecutors have to do more work and invest more time in preparation for a trial, which ostensibly costs more money. SAC, which presumably wants to avoid just such a trial, which would put its entire operation on lurid display, is expected to come back with a counteroffer. A spokesman for SAC declined to comment.
Barring a new investigative breakthrough, this represents the winding down of a seven-year investigation into trading at the giant hedge fund by the U.S. Attorney's Office, the FBI, and the SEC. In July, a grand jury indicted the firm and accused it of fostering a culture of lawbreaking activity, citing six former SAC employees who have pleaded guilty to trading on inside information, and two more who are scheduled to go on trial. The SEC has charged Cohen with failing to supervise the two portfolio managers due to go on trial in a civil administrative action. The SEC is seeking to bar Cohen for life from serving as an investment adviser. Cohen has pledged to continue trading his own money as a family office.
Before it's here, it's on the Bloomberg Terminal.
LEARN MORE