Containers! Contenedors! Behalters! Conteneurs!
by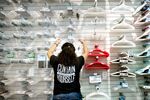 As it prepares for its first trip to public markets, Container Store is quietly stocking up on international shoppers.
About two weeks ago, without much fanfare, the Texas-based shop for all things organizational started processing online orders from nine countries: Australia, India, Mexico, Germany, France, Japan, Switzerland, Russia, and the U.K.
The initiative may be a bid to woo investors as much as shoppers. Container Store filed plans in late September to raise up to $200 million in an initial public offering. In its opening pitch to potential investors, the company said it may eventually build stores abroad to compliment Elfa, its Sweden-based subsidiary that makes modular shelving.
For the time being, however, its digital dabbling is a way to test the waters and spread some brand awareness beyond U.S. borders. It has 62 stores in the U.S. and estimates it can expand to 300 locations before cannibalization becomes a problem.
Web sales are growing fast, but the company has struggled to turn a profit online. Container Store posted a 25 percent increase in Web revenue last year, compared with a 12 percent increase in total sales. But the online division lost money in each of the past three years.
Although Container Store's Web shop remains almost entirely in English, Borderfree, a New York-based company that helps retailers build international sales online, makes sure customers outside the U.S. see prices in their local currencies, as well as shipping costs that account for customs duties and other fees.
"They have a product mix that works really well for this," says Borderfree Chief Executive Officer Michael DeSimone. "It's highly curated—things that can be hard to find or impossible to find—and they're all in one place."
Before it's here, it's on the Bloomberg Terminal.
LEARN MORE