World Bank Cuts East Asia Growth on China Slowing
by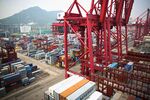 East Asia's developing countries are growing more slowly than expected, the World Bank announced today, cutting its earlier estimate for growth this year from the 7.8 percent it predicted in April, to 7.1 percent now. In contrast, last year the region grew 7.5 percent.
And that's in part due to a weaker-than-anticipated Chinese economy: It will likely expand 7.5 percent in 2013, down from the 8.3 percent the Washington-based development bank predicted in April. Still, the bank's new estimate is in line with the target growth set by China's leaders at the National People's Congress in March.
"Developing East Asia is expanding at a slower pace as China shifts from an export-oriented economy and focuses on domestic demand. Growth in larger middle income countries including Indonesia, Malaysia, and Thailand is also softening in light of lower investment, lower global commodity prices and lower than expected growth of exports," says the World Bank's East Asia Pacific Economic Update, released Oct. 7.
What are the biggest risks facing the region? (The region covered in the report includes China, Southeast Asian nations, as well as Mongolia, Papua New Guinea, Fiji, Solomon Islands, and other island economies in the Pacific.) An external challenge looms for East Asia as developed countries around the world prepare to end the expansive policies adopted in response to the 2008 global financial crisis.
"Some of the headwind will be coming from the international economy, and that largely is the tapering of the unconventional monetary policies especially in the United States," said Bert Hofman, the World Bank's chief economist for East Asia and Pacific, at a press conference in Singapore. "It will mean an increase of global interest rates for which countries would need to prepare. And they need to prepare for potential financial-market volatility in the process," he added.
The stress that produces, however, could be partially alleviated if Japan continues its efforts to support its own economic expansion. "The impact of tapering on capital inflows in the region may also be offset by 'Abenomics,' Japan's new strategy to revive growth, which could increase Japanese investment in the region," according to the World Bank report.
The biggest challenge from within the region comes from China, the bank said. In particular, the excessive reliance in recent years on investment is not sustainable, the bank warned. The investment splurge, too, has contributed to a major problem with both a surge in potentially destabilizing shadow banking and swelling local government debt.
"The rapid expansion of shadow banking poses serious challenges, since shadow banking is closely linked to the banking system, is less regulated, and operates with implicit guarantees from banks and local governments. The rise in local government debt is also a concern, given the complexity and opacity of municipal finances," the report said.
As of the end of last year, local governments had accumulated 19 trillion yuan ($3.1 trillion) of debt, up 39 percent from 2010, concludes a recent report by Nomura. That's equal to 37 percent of China's gross domestic product, according to Nomura. China plans to finish an audit of its local debt later this month in time for a key policy-setting meeting of the Communist Party, scheduled for early November.
Still, the World Bank report struck a positive note, predicting that China will launch major economic and financial reforms at the upcoming party meeting, known as the Third Plenum. Those reforms are seen as necessary for China to meet its goal of rebalancing to a more domestic consumption and service industry-driven economy. And longer term, a successful economic transition would allow China to continue to be a significant driver of global growth for years to come.
"China seems to be on the cusp of announcing significant reforms involving the country's urbanization policy, land management system, residency (hukuo) system, financial systems, and fiscal decentralization," the World Bank predicted.
"The Third Plenum is the Party's chance to create some clarity" on reform, wrote Tom Miller, an analyst at Beijing-based China research consultancy GK Dragonomics, in a Oct. 7 note. "We remain cautiously optimistic that China's leaders will deliver—yet we will not know for sure until the government implements specific policies fleshing out the Party line."
Before it's here, it's on the Bloomberg Terminal.
LEARN MORE