Uncommon Sense: When Markets Panic, Do Very Little
by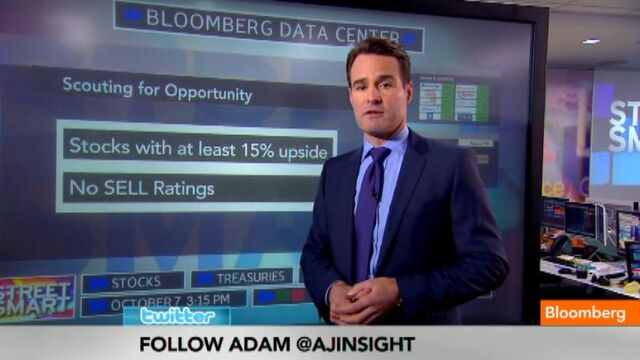 Thank you, Michael Holland, founder of www.thehollandfund.com, for providing a little perspective this morning on Bloomberg Surveillance as Dow Jones Industrial Average futures traded down 145 points and European markets fell amid trading volumes that were 20 percent above average.

In other words, resist the temptation to trade daily headlines associated with the Washington stalemate. If you sell and the politicians announce a deal, you'll miss the bounce. If you buy and they keep struggling to agree, you'll struggle too.
Instead, Holland advocates investors go through their holdings, confirm they offer the most opportunity available and, if necessary, make changes for fundamental reasons only.
Similarly, Dave Kostin of Goldman Sachs announced a list of the 40 "cheapest" stocks covered by the firm's analysts. With two top Wall Street minds imploring us to hunt thoughtfully for opportunity, we're narrowing the S&P 1500 Index to 36 companies based on two simple criteria:

Two of Goldman's top picks made our own list (Ryder Systems and Simon Property Group). Here are the ten we shared on-air:

And here are the other twenty-six: AES Corp. (AES ), AMN Healthcare Services Inc. (AHS ), CBRE Group Inc. (CBG ), Cadence Design Systems Inc. (CDNS ), CoreLogic Inc. (CLGX ), Corrections Corp. (CXW ), Cyberonics Inc. (CYBX ), Cynosure Inc. (CYNO ), Emergent Biosolutions Inc. (EBS ), EMC Corp. (EMC ), Foot Locker Inc. (FL ), Haynes International Inc. (HAYN ), Haverty Furniture Cos. (HVT ), Medicines Co. (MDCO ), Multimedia Games Holding Co. (MGAM ), Marathon Oil Corp. (MRO ), Owens-Illinois Inc. (OI ), Quanta Services Inc. (PWR ), Questor Pharmaceuticals Inc. (QCOR ), Rudolph Technologies Inc. (RTEC ), Service Corp. International (SCI ), Superior Energy Services Inc. (SPN ), Teradyne Inc. (TER ), Triumph Group (TGI ), Marriott Vacations Worldwide Corp. (VAC ), Voxx International Corp. (VOXX ).
This group of thirty-six is trading at a slight premium to the S&P 500, 19.2x 2013 earnings vs. 16.1x for the broader index. It's also outperforming.

Before it's here, it's on the Bloomberg Terminal.
LEARN MORE