Twitter Impressionism: TV Gets a New Metric
by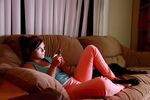 Is there any value to a timely tweet about a television show you're not watching? Spoiler alert: Advertisers are about to find out.
On Monday, Nielsen for the first time began publishing a metric for social TV: Twitter TV Ratings. "Nielsen Twitter TV Ratings measure not only 'authors'—the number of people tweeting about TV programs—but also the much larger 'audience' of people who actually view those tweets," Nielsen announced. "Initial analysis of Nielsen Twitter TV Ratings reveals that the Twitter TV audience for an episode is, on average, 50 times larger than the authors who are generating tweets."
In other words, if 2,000 people are either (a) cursing in frustration or (b) laughing in joy on Twitter about the latest Tony Romo clutch interception, another 100,000 are seeing those mirthful/angry tweets on their computer or smartphone.
Is that larger audience of Twitter TV impressions valuable to anybody?
Twitter certainly hopes so. On the eve of the site's initial public offering, Twitter executives are busy talking up the centrality of the company in the evolving TV landscape—and its unmatched ability to extend the conversation about TV beyond traditional limits. As Chief Executive Officer Dick Costolo recently told Forbes:
TV has always been social and conversation-driven. It's just that in the past, the reach of that conversation was limited by the number of people in a room or who you could talk to on the phone or the next day at the watercooler. Broadcasters have come to understand that Twitter is a force multiplier for the media they've created.
That may be true for broadcasters. Someone who sees a flurry of Romo tweets might be tempted to turn on the TV to see what the excitement is all about—and, once they've finished watching the Cowboys lose on CBS, might stick around for 60 Minutes.
But what about for advertisers?
It's easy to see how social TV can distract from a brand's message. Instead of watching your beer commercial during a TV timeout, a once-captive NFL fan can now spend his downtime tapping out witty barbs on Twitter instead of, say, tearing up at your heart-warming deployment of Clydesdales.
According to new research by Nielsen, however, that style of TV tweeting is actually a minority behavior. The majority of social TV users tend to use Twitter more during the show than during the commercial break—which would seem to be good news for the brands.
In the meantime, how brands can capitalize on this now-measurable market of secondary impressions on Twitter remains to be seen. It's an evolving dynamic that media buyers are clearly still trying to wrap their heads around. "If a show is social, does that mean it helps or hurts the advertisers?" Ari Bluman, chief digital investment officer of GroupM (WPP:LN) told the Wall Street Journal yesterday. "We are continuing to investigate."
Before it's here, it's on the Bloomberg Terminal.
LEARN MORE