The Supreme Court Gets Down to Business
Bypassing the shutdown, the justices begin a crowded term
Paul M. Barrett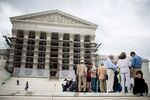 In the spirit of justice delayed is justice denied, Chief Justice John Roberts and the Supremes took the bench as scheduled on Oct. 7, ignoring the shutdown of much of the rest of the federal government. Bravo to the highest court in the land for moving ahead with oral arguments, despite the tomfoolery across the street in the Capitol.
Speaking of getting down to business, the Supreme Court has agreed to hear an array of cases of interest to employers and workers, manufacturers and financiers, and anyone else concerned about the intersection of commerce, law, and society. Here's a highly selective preview of the justices' dollars-and-cents docket for 2013-2014. Expect decisions beginning later this year and through next June. New cases will be added along the way. (Citations at the end of each item link to the U.S. Chamber of Commerce website, which has collected the relevant briefs.)
Class actions: The five-member conservative majority has been on a campaign to clamp down on class actions. Right off the bat, the court today will hear arguments on whether federal securities law precludes certain class actions filed by investors who invoke state law. The case has added sizzle because it involves investors suing various defendants for losses related to R. Allen Stanford's $8 billion Ponzi scheme. A lower court said that a federal statute, the Securities Litigation Uniform Standards Act, did not forbid state-law class actions in this context. In a "friend of the court" brief, the Securities Industry and Financial Markets Association, a Wall Street trade group, warned the Supreme Court that failure to reverse the earlier ruling would "foment uncertainty" and "encourage vexatious and frivolous litigation." (Proskauer Rose v. Troice, Willis of Colorado Inc. v. Troice, Chadbourne & Parke v. Troice)
Separately, the justices will resolve whether the corporate target of a state's consumer-protection lawsuit can get the dispute moved from state court to federal court. The question sounds hyper-technical, but it matters. Defendants in consumer-protection cases prefer to litigate in federal courts, which are widely perceived as less plaintiff-friendly. This case involves Mississippi's suit challenging alleged price fixing by manufacturers of flat-screen display panels. A lower court said that the defendants could get the suit moved to federal court, even though Mississippi sued under its state law. (Mississippi v. AU Optronics)
Environmental regulation: In recent years, the influential federal appeals court in Washington, D.C., has issued a series of rulings making it difficult for the Environmental Protection Agency to curb power plant pollution that crosses state lines. The EPA is asking the Supreme Court to overturn a 2012 decision by the U.S. Court of Appeals for the D.C. Circuit that struck down an agency rule that required upwind states in the East, Midwest, and South to reduce emissions of nitrogen oxides and sulfur dioxide to help downwind states meet national ambient air quality standards. The case, to be argued on Dec. 10, has big-dollar implications for the electricity industry in most of the country–and for everyone breathing the air in those downwind states. (EPA v. EME Homer City Generation)
Racial discrimination: In a case of vital interest to homeowners, borrowers, and banks, the justices will clarify the extent to which statistics can be used to prove bias under federal anti-discrimination law. The dispute involves a municipal redevelopment initiative in the New Jersey town of Mount Holly. Minorities who live in the town objected that the project, which involves demolition of some housing, would disproportionately harm them. The town said the residents would have to prove intentional discrimination to prevail under the federal Fair Housing Act. The alleged victims contend they should be able to prove their case by showing a statistical "disparate impact" on minorities. The high court's ruling could have broad implications, as the Obama administration has invoked the disparate impact theory in suits against major banks over housing and auto loans. The Consumer Financial Protection Bureau has also embraced the theory. One wrinkle in the case, set for arguments on Dec. 4, is that the Mount Holly government and its unhappy residents are in settlement talks. A local compromise could render the high court dispute moot and forestall what most observers expect would be a conservative ruling limiting the reach of federal discrimination law. (Mount Holly v. Mount Holly Gardens Citizens in Action)
Whistleblowers: The justices will decide whether to encourage corporate employees to step forward and accuse their employers of wrongdoing. Under review is a lower-court ruling that denied whistleblower protections to former employees of a private contractor that provided services to the Fidelity family of mutual funds. Only employees of publicly traded corporations are eligible to receive various federal-law benefits provided to whistleblowers, the lower court said. The U.S. Department of Justice and the Securities and Exchange Commission have backed the employees. The agencies contend that a post-Enron law known as Sarbanes-Oxley reflected congressional concern that contractors and subcontractors, such as the now-defunct accounting giant Arthur Andersen, were active in Enron's fraud and its coverup. Arguments are set for Nov. 12. (Lawson v. FMR)
Airline security: This one should rivet anyone who travels. In a case scheduled for argument on Dec. 9, the justices will decide whether airlines should have broader protection against lawsuits stemming from their reports of potential security threats. A pilot named William Hoeper sued his former employer, Air Wisconsin, an affiliate of USAirways, after the airline told federal aviation security officials that Hoeper was "unstable" and possibly armed. Hoeper won a $1.4 million defamation judgment. Air Wisconsin, backed by the U.S. Justice Department, has urged the justices to reverse the lower-court decision and send a signal that airlines should be encouraged to raise security threats, even if there is some risk to a suspect's reputation. (Air Wisconsin Airlines v. Hoeper)
Patent "trolls": On Oct. 1, the justices augmented their docket with a pair of cases raising the question of whether to make it easier for corporations to deter patent suits. The narrow issue is whether corporations that fend off intellectual property litigation can collect attorneys' fees from their foes. Many patent holders have complained that they are vulnerable to patent "trolls," meaning serial litigants who bring intellectual property suits seeking quick settlements. One appeal comes to the Supreme Court from a company called Octane Fitness, which is seeking $1.3 million in fees after defeating a patent suit over exercise equipment. The U.S. Patent Act says fees can be awarded "in exceptional cases." The Supreme Court will clarify what that term means. (Octane Fitness v. Icon Health & Fitness, Highmark v. Allcare Management Systems)
Human rights jurisdiction: The high court will decide whether the German car maker DaimlerChrysler can be sued in a U.S. court over its alleged role in the torture and murder of Mercedes Benz workers in Argentina during the 1970s. The justices will review an appellate-court ruling that allowed the suit in a federal court in California, based on the business the Daimler unit Mercedes-Benz USA does in California. The German company said that it would violate the U.S. constitutional guarantee of "due process" for an American trial court to exercise jurisdiction over a foreign corporation, based solely on an indirect subsidiary performing services on behalf of the foreign corporation in California. Arguments are set for Oct. 15. (DaimlerChrysler v. Bauman)
Raging Bull: This is a relatively obscure copyright case, but it involves a great movie, so what the heck. The justices agreed on Oct. 1 to decide a dispute over rights to the 1980 Oscar winner Raging Bull. The appeal was filed by the daughter of a man who worked with boxer Jake LaMotta on the project's screenplay. At issue is whether Paula Petrella waited too long to press her copyright claims against MGM Holdings units. Petrella's father, Frank, was a friend of LaMotta, whose life was the basis of the movie. Frank Petrella's death in 1981 meant his heirs had a right to renew his copyright when the original 28-year term expired. Paula Petrella applied for renewal in 1991. She didn't sue until 2009, however. A lower court said she waited too long to file the suit. (Petrella v. Metro-Goldwyn-Mayer).
BOTTOM LINE -
The bottom line: The high court's new term is packed with complex, wide-reaching cases affecting businesses and employees.
Before it's here, it's on the Bloomberg Terminal.
LEARN MORE