Sending Employees Out to Starbucks—and Telling Them to Stay
by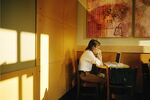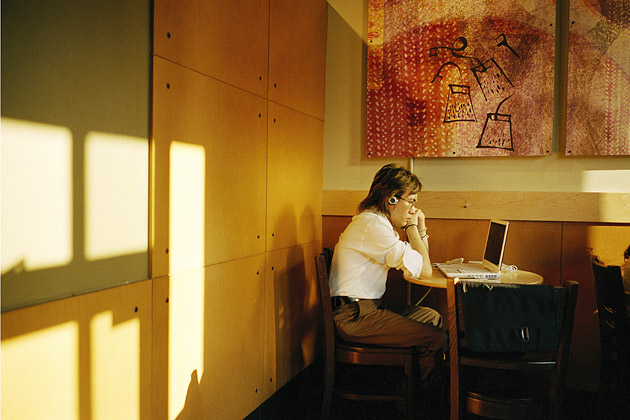 Starbucks and McDonald' have become the unofficial "coffices"—that's coffee shop-offices—of the Arizona Republic.
Last week the newspaper's editors told about 20 community reporters in Mesa, Scottsdale, and Phoenix that they would be given laptops to work remotely as part of a new cost-cutting strategy. The company recommended the two quick-service chains among establishments where the out-of-office reporters could work, according to the Phoenix Business Journal, and it's no coincidence that both eateries offer free Wi-Fi. Journalism is so glamorous.
For the freelance employee who needs to get out of the house, cafes like Starbucks are a great base: There's Internet access, limitless caffeine, and little pressure to chug and run. Remember how celebrity agent Ari Gold set up his office from a Coffee Bean & Tea Leaf in the HBO show Entourage? McDonald's works, too, although it's easier to imagine that swarms of lunch customers and screaming kids could wreck afternoon productivity—not to mention that it's hard to feel like a serious professional when you're devouring a McFlurry.
Working in public isn't merely an option for the paper's newly deskless employees; it's an expectation. The Arizona Republic wants these mobile reporters out in the field, not at home in their sweatpants. While chain restaurants won't become replacements for permanent workstations, the locations are viewed as bases where reporters can pause and get caught up during the day. And the Republic isn't the first newsroom to experiment with mobile workers: AOL's Patch and at New Jersey's Bergen Record have both adopted the strategy.
Starbucks and McDonald's don't seem particularly opposed to serving as remote offices for customers—it's presumably one of the reasons they offer internet in the first place. There's free Wi-Fi at more than 11,500 McDonald's locations in the U.S., and the chain's website even has information about logging into your employer's virtual private network from the restaurants. Starbucks, meanwhile, touts Wi-Fi at 7,000 company-owned stores around the country and is even experimenting with phone-charging stations to draw in customers and keep them longer. "While there isn't a specific policy about customers working from our stores, Starbucks strives to provide a welcoming experience with a focus on maintaining a welcoming atmosphere for all of our customers," spokeswoman Linda Mills said in an e-mail.
Some argue that allowing employees to work remotely improves satisfaction and loyalty—although that's not exactly the same as forcing people to work remotely. Perhaps allowing them to put the occasional quarter pounder or cappuccino on the company credit card can engender goodwill. Or maybe the bar next door has free Wi-Fi, too.
Before it's here, it's on the Bloomberg Terminal.
LEARN MORE