Putting All 20,000 Electric Car Charging Stations on the Map
By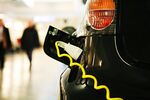 Forrest North works on the second floor of a Menlo Park, Calif., office building. Unlike other people in the office, North has an electric car charging station next to his desk. When he arrives at work, he dangles the charging station cord out of his window and plugs it into a Nissan Leaf waiting in the parking lot below.
North is an electric car buff and then some. He built a radio-controlled, solar-fueled car in high school and went on to join Stanford's solar car team. After graduation he became one of the early engineers at Tesla Motors. These days, North serves as the chief operating officer at Recargo, a company that maps and rates car charging stations in North America. He's convinced that the electric car revolution has arrived, and he even has some data to back up the claims.
Two years ago, there were about 2,000 recharging stations scattered throughout the U.S. and Canada. That figure hit 6,300 in 2012, and by last May it had reached 20,100. California dominates the charging scene, but it's clear enough that a countrywide phenomenon has taken effect.
The counterintuitive thing about all these charging stations is that electric car drivers tend not to need them. Most people go to work and back home, maybe running errands in between. Even a Leaf, with its 80-mile range, is up to those tasks on a single charge. So electric car owners generally refuel at their houses overnight, and that's it. What the influx of car charging stations does, according to North, is help potential electric car buyers get over lingering anxieties. "Even if you only need a charging station in emergencies, their presence is encouraging if you're looking into purchasing an electric car," he says.
The electric car community sounds downright revolting in its kindness. Thousands of people have opted to let people recharge cars for free at their homes, setting up small stations near the curb or leaving a plug out in the driveway. "I will sometimes leave them a thank-you note or a bottle of wine," says North. "I left someone a box of chocolates once, but I don't like to talk about that because of my name."
Recargo's PlugShare app—which shows public charging spots, as well as those from such companies as SemaConnect and ChargePoint—has been downloaded about 200,000 times. Tesla's private network of free, super-fast charging stations appear in the app, too—just imagine how the rich elite must scoff at chocolate-toting plebs who must forage for borrowed plugs! (In fact, all electric car owners seem pretty well off, with the average salary coming in above $200,000.) All these stations get ranked by Recargo users in a Yelp-like fashion. You can read about how many spots a given garage maintains, for example, as well as who owns what stations.
Recargo is also trying to make paying for charging much easier. The company signed a deal with SemaConnect to use the app to broker payments, rather than asking electric car owners to go through a somewhat lengthy registration process. The goal is to get more charging station providers on board and have Recargo be the payment facilitator. "Usually you have to go to a website, sign up for a physical card, pay like, $30 upfront, and then wait a few days for the card to arrive in the mail," North says. "With our app, you click O.K. and start charging."
Recargo makes its money by collecting data on the electric car industry, and North wants his company to become the central place vehicle owners turn to for their needs. "We will connect the gap between what drivers are experiencing and what they want," he says