President Obama Is Not a Fan of the Washington Redskins' Name
By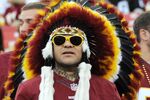 In an interview over the weekend, President Obama told the Associated Press that, if he were the owner of the Washington Redskins, he would "think about changing" the team's name. "I don't know whether our attachment to a particular name should override the real, legitimate concerns that people have about these things," Obama said of objections to the name as a slur against Native Americans.
The president, while measured in his support for a change, gives momentum to a long-simmering cause that has gained heat over the past six months. In May, 10 members of Congress sent a letter to Redskins owner Dan Snyder asking for a new name. (Branding firm Lexicon offered Bloomberg Businessweek these ideas.) Since then, more writers and publications, from Slate to Peter King's Monday Morning Quarterback to Grantland's Bill Simmons, have either openly joined a media boycott of the name or quietly started using alternatives. Still other writers have somehow compared a name change to forcing Native Americans onto reservations and explored the nuances of attitudes toward the name on one reservation in South Dakota.
National Football League Commissioner Roger Goodell first backed the current name in a letter to Congress (invoking an "American Inuit Chief" who isn't), then changed course, telling a D.C. sports talk station that "if one person's offended, we have to listen." For the league commissioner and the president of the United States to express openness to a change is a big deal. As both noted themselves, however, the decision ultimately rests with Snyder, who told USA Today, "We'll never change the name. It's that simple. NEVER—you can use caps." Perhaps the only powers that could force Snyder's hand are the league's broadcast partners. If they stopped using the name on-air, things would get awkward fast.
Still, pressure is mounting. So we will match Snyder's vow with our own prediction: Within the decade, the Washington (D.C.) NFL team will have a new name. You may not use caps.