How Japan Airlines Flexed Its Negotiating Muscles
By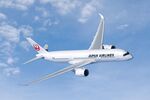 The skies over Asia grew decidedly less friendly for Boeing this week. Japan Airlines, after decades of sworn allegiance to the U.S. plane maker, ordered 31 long-haul jets from Airbus. The planes, all A350 models, have a cumulative list price of $10 billion, and JAL also inked an option to buy 25 more.
The landmark order shouldn't be surprising. JAL, perhaps more than any other carrier, has been buffeted by the delays tied to Boeing's 787 Dreamliner. It was the second airline to order the jet and thus bore the brunt of early delivery holdups. Almost one-quarter of JAL planes are non-Boeing, all of which are relatively small aircraft, and the carrier has no Airbus equipment in its fleet.
Still, the decision could not have been a cheap one, because plane-switching costs in the airline industry are remarkably high. Folding in a few dozen $300 million flying supercomputers, it turns out, is more complicated than an office switching from PCs to Macs. The Airbus jets will require a significant and ongoing investment in maintenance and training. In other words, JAL is not only buying Airbus planes—it's buying Airbus pilots and mechanics as well.
Some carriers remain largely loyal to a single manufacturer to save on those logistics and maintenance costs. Southwest Airlines, for instance, maintains an all-Boeing fleet. Alaska Airlines does so as well for all but its smallest commuter planes. Those carriers have decided switching costs associated with more complicated operations are likely more expensive than any potential savings at the negotiating table when it comes time to order new planes.
That equation flips for larger airlines such as United, which has been playing Airbus and Boeing off one another for years. This summer, United increased its Boeing 787 order to 65 planes, while signing a separate agreement to purchase 35 Airbus A350s.
Switching costs aside, JAL also sacrificed any sweeteners it got from Boeing over the years for being an exclusive customer. Those incentives were likely a big reason the vast majority of 23,000 or so flights JAL will operate today are on Boeing planes. "Given the long-term relationship and the volume of business over the years, I would be very surprised if there weren't significant agreements in place, either in pricing or creative packaging and solutions," says Jeff Weiss, a co-founder of Vantage Partners, a Boston-based negotiation consultancy.
Of course, what JAL might have lost in loyalty discounts, it gained in negotiating power. Big purchasing deals often come down to something professional negotiators call Batna, which is corporate-speak for "best alternative to a negotiated agreement." JAL's "best alternative" to a Boeing offer used to be delaying a plane purchase or trying to hammer out a deal the next day. Now its Plan B is a trip to Airbus headquarters in the south of France. Scratch that—I'm sure the Airbus folks are happy to fly to Tokyo.