pursuits
How to Bet Money on the Nobel Prize in Literature
By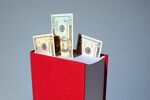 The Nobel Prize in literature will be announced on Oct. 10, and according to the British betting company Ladbrokes, it'll probably go to Haruki Murakami. Ladbrokes, one of the oldest betting organizations in Britain, has been wagering on the prestigious literary prize since 2005 and has a 50 percent accuracy rate—which is pretty impressive considering the Swedish Academy that bestows the award doesn't even release the list of nominees until 50 years later. Right now, Ladbrokes places the odds of a Murakami win at 5 to 2, beating out Alice Munro (4 to 1) and Joyce Carol Oates (8 to 1). Jonathan Franzen is near the bottom of the list at 100 to 1. Ladbrokes spokesman Alex Donohue spoke with Bloomberg Businessweek about how authors' chances are handicapped and how much money the company makes from the Nobel Prizes.
Ladbrokes is right 50 percent of the time without even knowing the names of the authors the Swedish Academy is considering. How do you do it?
That's not us; that's the power of the betting market. The way people are betting changes the odds for any given author such that the one who's winning turns out usually to be the one they've selected. We find that the betting market is a great measure of public opinion because people are actually putting money behind their beliefs. All we do is put the initial list together and then manage the markets as we do a sporting event. It's the same as football or horse racing, really.
OK, so how do you put the list together?
We read literary blogs, book reviews, Twitter—
You check Twitter?
Well, we don't put a lot of emphasis on Twitter, because people tend to discuss only the most commercial authors, but we do think it's important to see who's hot and who's not. We put a bigger premium on chatter within the literary world. The list is a rolling list; it's not like we start from scratch each year. We pay attention to major authors who haven't won a Nobel in the past and of those, who have new works out. Then we see what the general feeling is on the work.
Is that why Haruki Murakami tops your list this year?
Yeah, he's been a favorite for a number of years and then, with his new book [1Q84], he's getting a lot of attention.
Has Ladbrokes ever been wildly off?
In 2010, Mario Vargas Llosa won, and we had him at 40-to-1 odds. There were hardly any bets on him at all. But other than that, we've been pretty accurate. When Thomas Transtömer won in 2011, he was a favorite, right above Murakami. Even in horse racing, sometimes the favorite wins and sometimes it's a complete outsider. That's what makes it a competition.
Why don't you bet on any other Nobel prizes?
I'm not really sure, to be honest. I don't think there's much of a demand for the others. Literature is the most popular prize in Britain because it's where our heritage is. But if there's a market for the other awards, we'd certainly branch out.
How many bets do you get on the Nobel Prize?
The total amount of money is between £10,000 and £20,000. It's not a huge amount, but it's growing every year. It's part of our "novelty" betting category. Most of our novelty bets are related to politics, elections, cabinet reshuffles, that sort of thing. We also bet on the Grammys, Oscars, the Brit awards, Man Booker prize, loads of stuff. The royal baby was a big one this year. We had bets on if it would be a boy or a girl, when it would be born, and the name. All these events are quite small, but they represent about £5 million of turnover each year. People really like these bets, our novelty category is always expanding.
Before it's here, it's on the Bloomberg Terminal.
LEARN MORE