Gravity and the Box-Office Pull on the Oscars
by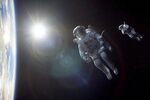 Propelled by gushing reviews and a plot that speeds along at orbital velocity, Alfonso Cuarón's Gravity, starring George Clooney and Sandra Bullock, set a new October opening-weekend record with a $55.6 million bonanza. The explosive debut is likely to give the film surer footing in the year's ongoing Oscar discussion, especially as Hollywood turns the corner into the fall movie season.
Several ambitious films are set to arrive on Gravity's weightless heels: Captain Phillips, Tom Hanks's anticipated portrayal of a real-life hostage to Somali pirates; 12 Years a Slave, starring Chiwetel Ejiofor as a man sold into slavery in the pre-Civil War South; and Ridley Scott's The Counselor, with Michael Fassbender as a lawyer pulled into the shady world of drug dealers. The first true stress test of the films' Oscar-worthiness will be their box office numbers. "Every year there are a lot of films that are trying to become part of the Oscar conversation," says Keith Simanton, managing editor of IMDb.com. "Often, box office can become a way to winnow down the ones that are on the bubble."
Kristopher Tapley, editor-at-large of entertainment site HitFix.com, agrees. "The whiff of failure makes it difficult to land Oscars," he says. For costlier movies such as Gravity—with its $80 million production budget—expectations are higher: "If you go into an Oscar season in the red and with little hope to get out of it, that unfortunately becomes part of the narrative." Ron Howard's 1970s racing epic Rush, which opened wide to solid reviews, may very well fall into that category. With a budget of about $40 million, it pulled in a paltry $10 million from 2,297 theaters.
The importance of a film's financial viability can't be overstated. Last year, for example, The Master had countless critical hosannas and several festival awards in its favor for what seemed a certain Best Picture nomination. But after it topped out at around $16 million domestically, the film disappeared into the pack. A similar fate befell 2011's sex-addiction drama Shame, with critical acclaim making a Best Actor nod for its star, Michael Fassbender, appear inevitable. After a couple of solid weekends in just a few theaters, however, it brought in under $4 million—and Fassbender wasn't nominated.
But if a prerequisite to Oscar glory is some level of box-office brawn, it's important not to go overboard: Seldom does the year's biggest hit score Best Picture. In 2012, Lincoln, with its $145 million take, lost to Argo, which had earned roughly $110 million. And in 2010, The Hurt Locker and its paltry $17 million haul edged out Avatar, the highest-grossing movie of all time.
There's nothing that approaches an Oscar sure thing, but coming closest would probably be a low-budget long shot that overachieves in theaters. Two years ago, The Help emerged from nowhere to score $169 million. Despite mixed reviews, it wound up with four Oscar nominations, including Best Picture. This year, the closest analogue for is Lee Daniels' The Butler, which earned $110 million so far and "has a much better chance now," says Sasha Stone, founder and editor of AwardsDaily.com. "Had it topped out at $20 million, it would not be in the conversation." In the end, she says, "It comes down to expectations—beating them and not having them met."
Las Vegas odds makers have pegged 12 Years a Slave as the leading contender for Best Picture, at 11-to-8 odds. It opens to wide release on Oct. 18, and gamblers would probably be advised to wait for box-office evidence before plunking down a wager.
Before it's here, it's on the Bloomberg Terminal.
LEARN MORE