Going Global: A Talk With INSEAD's New Dean
By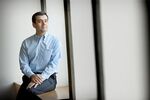 INSEAD, the business school headquartered in Fontainebleau, France, named a new dean this week—and he's based in Singapore.
Ilian Mihov, who teaches economics at INSEAD's 13-year-old Singapore campus, will remain there as dean, overseeing the original French campus as well as a newer outpost in Abu Dhabi. His appointment, announced on Oct. 1, makes INSEAD "the first major business school that has a dean outside the United States or Europe," Mihov says.
Mihov was born in Bulgaria but educated in the U.S., where he earned a PhD from Princeton and an undergraduate degree from the University of South Carolina's Moore School of Business. An expert on monetary and fiscal policy, he's taught at INSEAD since 1996. He replaces Dipak Jain, who stepped down as dean earlier this year for health reasons.
In a conversation with Bloomberg Businessweek, Mihov talked about:
INSEAD's growing international footprint: "INSEAD is a global business school. In our classrooms, we have 84 nationalities. No culture dominates. This creates a very different environment from what you'll find in other business schools." Having a dean in Asia "should not be interpreted as meaning that we're deemphasizing Europe. But this will allow me to develop our business in Asia. Growth in Asia will accelerate."
How he'll manage INSEAD's far-flung campuses: "It will require a lot of travel. I'll spend at least one or two weeks each month in Europe. We maintain strong relationships with our alumni, and they are predominantly in Europe. We'll also have a deputy dean, located in Fontainebleau, who will have global responsibilities. This will be a new position."
His reaction to INSEAD's falling to the No. 2 spot, behind London Business School, in this year's Bloomberg Businessweek ranking of full-time MBA programs at international B-schools: "We take rankings seriously. We'll look at the determinants of satisfaction of our alumni and students, and we'll try to improve anything that isn't working well."
Join the discussion on the Bloomberg Businessweek Business School Forum, visit us on Facebook, and follow @BWbschools on Twitter.