Gauging Small Business Hiring: Another Slow Month
by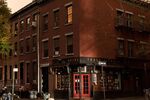 Small business hiring decreased slightly for the third consecutive month, according to multiple surveys, as the government shutdown prevented the U.S. Bureau of Labor Statistics from publishing its monthly jobs report. Gauging small employers' hiring depends on how you define "small"—as well as who's doing the counting—and as usual, recent research yields mixed results.
Here's the New Entrepreneur's monthly rundown of small business hiring reports:
Small businesses pared jobs last month, according to a survey of 773 members of the National Federation of Independent Business. (About 90 percent of NFIB members have fewer than 20 employees.) "Most of the jobs being 'created' are likely [to] be part-time, as owners hedge their hiring while they try to fathom how the healthcare law, its regulations and penalties will impact them," NFIB chief economist William Dunkelberg said in a statement.
Small business hiring was little changed from August to September, according to the SurePayroll (PAYX) Small Business Scorecard, but small business owners are less optimistic about the economy than they were a month earlier. Forty-three percent said they needed a better understanding of the Affordable Care Act's effects to feel confident hiring.
Employment at small companies fell 2.15 percent in September, according to the CBIZ (CBZ) Small Business Employment Index, which polls 3,500 employers with fewer than 300 workers. That decrease is consistent with the historical trend, as students leave summer jobs to return to school, says Philip Noftsinger, CBIZ's president for payroll services.
Research from payroll company Automatic Data Processing painted a rosier picture, finding that businesses with fewer than 50 employees added 74,000 jobs in September, the most since June.

Here's some related research to consider: Only 16 percent of small and midsize businesses plan to hire full-time workers in the next six months, according to research published last week by PNC Financial Services. Fifty-six percent of small businesses expect to add workers over the next year, according to a Wall Street Journal/Vistage survey of chief executives at companies with $1 million to $20 million in annual revenue. Small business borrowing rose to its highest level (PDF) since August 2007, according to data from Thomson Reuters/PayNet.
Before it's here, it's on the Bloomberg Terminal.
LEARN MORE