Asian Summit Opens Without Obama
By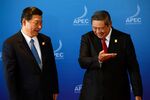 The annual meeting of Asia-Pacific leaders was supposed to be President Obama's chance to show that the U.S. has shifted its focus to this part of the world. At a time when China's bellicose territorial claims have spooked Asian countries, the U.S. was going to make a major push to wrap up by year's end a regional trade deal that embraces a dozen countries, including Japan, Mexico, Malaysia, Vietnam—but not China.
With the U.S. government shut down, the president called off his trip to the Asia Pacific Economic Cooperation summit, and now American officials who did get to Bali are trying to make the best of a bad hand. For U.S. Trade Representative Michael Froman, for instance, the word of the day was commitment. "People realize that the U.S. commitment to Asia is a long and enduring commitment," he told Bloomberg Television. "We are a Pacific nation. We always will be and we are very much committed here."
Host nation Indonesia is trying to be diplomatic about the snub, but there's no hiding the frustration. "We are a bit disappointed with his not showing up in Bali," Gita Wirjawan, Indonesian trade minister, told Bloomberg TV. "We are sure he has been ably represented by the delegates of the U.S."
That's polite, but as my colleague Romesh Ratnesar pointed out a few days ago, no-show by the president of the world's largest economy creates an opportunity for the world's No. 2, China. Chinese President Xi Jinping has been meeting with leaders from Thailand, Australia, New Zealand, and others to reassure them about China's intentions.
The Chinese are still new at this, and the statements need some work. Consider this mouthful from Xinhua, the official Chinese news agency. "Noting that China has always treated and worked to strengthen China-Australia ties from a strategic height and long-term perspective, Xi said his country is ready to work with Australia to deepen their strategic partnership and make their ties a fine model of harmonious coexistence and win-win cooperation between countries of different social systems, history, culture and at different development stages."
One reason the Chinese are trying to make nice is because of the proposed Trans-Pacific Partnership, the ambitious trade deal that excludes them. Even with Obama not making the Bali trip, countries are trying to wrap up the deal by the end of the year. Talks may go past the deadline, Frederic Neumann, co-head of Asian Economic Research at HSBC, wrote in a report published today, "but talks are progressing faster than skeptics had expected."
TPP "is among the most comprehensive trade pacts being negotiated, tackling stubborn non-tariff barriers, and including controversial provisions for intellectual property and labor rights," Neumann added. "It thus addresses the needs of modern economies, in contrast to the industrial tariff busting agreements of old."
No matter what happens in Bali this week, though, Obama's battles with the Republicans put the trade project in doubt, according to Ernest Z. Bower, senior adviser and Sumitro Chair for Southeast Asia Studies at the Center for Strategic & International Studies in Washington. The TPP leaders will question "whether he will have the commitment and political capital to get the TPP ratified even if they reach an agreement," he wrote in an Oct. 3 report.