Airbus Lands a Punch on Boeing With First Japan Deal
JAL's order of 31 A350's is a blow to Boeing, but no knockout
by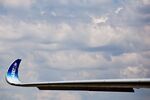 Airbus today claimed a prize that has eluded it for decades: a deal with a major Japanese carrier, a first for the European airplane maker.
The order from Japan Air Lines for 31 Airbus A350s ends Boeing's near-monopoly in Japan and upends the U.S. manufacturer's strategy in the region. Boeing had bet heavily on maintaining its relationships by awarding Japanese companies an unprecedented 35 percent of design and construction contracts on its 787 Dreamliner, a plane that competes against some A350 models.  With the loss of the JAL order, "their key strategic alliance is broken," says Richard Aboulafia, vice president of the Teal Group aerospace consultancy.
JAL said that delays and technical problems with the Dreamliner, including a three-month grounding of the plane earlier this year, had nothing to do with its decision. Boeing said it was "disappointed" but expected to maintain a strong relationship with the airline.
In the JAL deal, the A350 was competing against Boeing's still-to-be-launched 777X, an update of its popular 777 widebody. The 777X "should have been launched long ago," according to Aboulafia. "A key customer like Japan would have been inclined to let Boeing be slow and passive if it weren't for the 787 experience, which has been a disaster. This is a day that really shouldn't have happened."
No question it's a humiliating blow for Boeing, but it's far from a knockout punch. Airbus was bound to break into the Japanese market sooner or later, as major airlines increasingly are splitting their orders between the two manufacturers to take advantage of price discounts, says Robert Stallard, an aerospace analyst at RBC Capital Markets in New York.
What's more, Airbus and Boeing now have a combined order backlog of more than 10,000 planes, which means JAL's 31-plane order "is not going to make a big difference," Stallard says. "This doesn't really alter the outlook for the 787." Boeing has logged 927 orders for the plane, including 131 this year.
Apart from giving Airbus a psychological boost, the JAL order marks a vote of confidence in the A350, says Shukor Yusof, an analyst with Standard & Poor's Capital IQ in Singapore. The new plane, which had its first flight in June and is scheduled to enter service in 2014, could be "a game-changer" for Airbus: "Notwithstanding problems with the 787 Dreamliner," Yusof says, "we think the A350 provides excellent economics in terms of fuel burn, design, and better range." Another advantage of the A350, he says, is that Airbus "has more flexibility in offering substantial discounts to customers, especially for large orders," than Boeing does.
For Airbus, perhaps the most-important aspect of the JAL order is that it could pave the way for sales of the double-decker A380 to Japanese carriers. Airbus has long said the megaplane is ideally suited to carriers operating from crowded Asian hubs, but sales have been disappointing. So far JAL and All Nippon Airways have stayed with Boeing's 747. A deal with Japanese carriers to update their fleets with the A380, Stallard says, "would be a far more important order for Airbus."
Before it's here, it's on the Bloomberg Terminal.
LEARN MORE