A-Rod Is Still a Hero Inside His Own Lawsuit Against Baseball
It's a "witch hunt," people.
By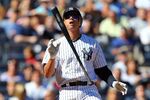 Yankees third baseman and accused performance enhancer Alex Rodriguez is suing Major League Baseball in New York State Supreme Court.
The case is a parallel effort to Rodriguez's appeal, currently before an arbitrator in New York, of the 211-game suspension the league handed down in August. That behind-closed-doors process revolves mostly around MLB's evidence that A-Rod bought banned substances from the now-shuttered Biogenesis anti-aging clinic in South Florida. The new lawsuit is A-Rod's public claim that baseball is out to get him. The league, in a statement, vehemently denies the allegations and calls the suit an attempt to distract from the "real issue" of A-Rod's rule breaking.
The essence of the complaint is that MLB has deliberately interfered with A-Rod's contract with the New York Yankees—the team still owes $86 million over the next four years—and with his future endorsement prospects. According to the suit, the league's "gratuitous leaks and public statements concerning Mr. Rodriguez's alleged actions have ensured that Mr. Rodriguez will not secure any endorsement contracts in the future." Nike and Toyota, A-Rod claims, have already backed out of negotiations because of the league's actions.
Along with calling for the league to cover these alleged damages, the suit tells the story, in purple prose, of a hero named A-Rod, "one of the most talented baseball players of all time," and his tormentor, Bud Selig, a "scandal-ridden" commissioner "plagued by some of the most contentious and damaging failures in baseball history." Here's a closer look at some of the highlights from the court filing:
Enter A-Rod:
He is the youngest player ever to hit 500 home runs, breaking the record Jimmie Foxx set in 1939. He is also the youngest player to hit 600 home runs, surpassing Babe Ruth's record by over a year, and currently stands just 6 home runs short of Willie Mays' career total of 660 … also an active supporter and contributor to, among other things, the Florida community.
A-Rod just wants to play baseball, according to the complaint—and to continue making loads of cash from "many of America's most venerable brands, including Pepsi, Nike, Wheaties and Colgate," thanks to his "sterling reputation." But Selig won't let him. The commissioner, the legal filing contends, is on a "witch hunt," a "scorched earth investigation," and a campaign of "vigilante justice" meant to destroy A-Rod's reputation and secure his own as "the 'savior' of America's pastime."
Selig and his henchmen in MLB's investigation department have, the suit claims, intimidated witnesses in their homes, purchased documents with "$150,000 in cash … handed off in a bag at a Fort Lauderdale, Florida area restaurant," impersonated the police, forced a car to the side of the road, and forked over $5 million for the cooperation of their key witness, Biogenesis owner Anthony Bosch.
They have also, the suit continues, leaked damaging information to the press. Selig even appeared on "David Letterman's nationally televised show" to "coyly" declare that only time will tell if A-Rod will ever play for the Yankees again. It doesn't stop there.
Don't forget about that "ambush":
MLB's incessant use of the media against Mr. Rodriguez reached new lows on August 19, 2013, when it ambushed Mr. Rodriguez's counsel, Joseph Tacopina, on live, national television with a letter offering to publicly release all confidential information regarding Mr. Rodriguez.
Visit NBCNews.com for breaking news, world news, and news about the economy
The toll on A-Rod has been immense:
Among other things, Mr. Rodriguez was cast in the animated movie "Henry & Me," which chronicles the Yankees' history and features team stars from the past and present. Mr. Rodriguez had already performed his own voice work for his character as the team's hero. However, due to MLB's public and harmful conduct, Mr. Rodriguez is being cut from the film.
Somewhere, probably in front of a wall-length mirror, a single tear rolls down our hero's cheek.