Tiny Malta Turns to China, Says Prime Minister
By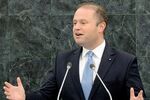 After becoming prime minister of the tiny but strategic Mediterranean island nation of Malta in March, 39-year-old Labor Party leader Joseph Muscat has put a new priority on strengthening relations with China. This marks a major shift for the Maltese government that rules over a population of 418,000. While maintaining good relations with Beijing during their almost 25-year-tenure (apart from a brief 18-month-period in the 1990s, Labor has been out of power since 1987) the conservative Nationalist Party had focused much more on the relationship with the European Union.
PRC-Malta ties have a relatively long history. Malta was one of the first European countries to establish diplomatic relations with the People's Republic of China in early 1972, then also under a Labor government. And as Malta prepared to close the military bases of its former colonial overlord Britain in the mid 1970s, it also won substantial economic aid from China (the bases were finally shut in 1979). That included providing complete factories to produce glass, textiles, and chocolate, as well as state-owned China Harbour Engineering Corporation, funding and constructing a massive 300,000-ton dry dock that berths supertankers, nicknamed the "Red China Dock," completed in 1980 and still used today. China is now planning construction of a massive new embassy in Malta, expected to be even bigger than the large U.S. embassy.
Muscat visited China in September where he signed a memorandum of understanding that will see state-owned enterprises, China Power Investment and Shanghai Electric, invest a minority shareholding in Malta's energy provider, aimed at producing photo-voltaic units for sale in Europe and the Mediterranean. Bloomberg Businessweek sat down for an interview with the Malta prime minister on Sept. 12th, on the sidelines of a World Economic Forum, meeting in Dalian. What follows are edited excerpts from the interview.
How will your government take a different approach in dealing with the world and China in particular?
Over the past decade or two, my country has been more focused on Europe. I think now we have to move on. We don't really consider European affairs to be foreign affairs any longer. That is the most significant shift in foreign policy that we have adopted. We see European affairs as an extension of national affairs.
That is why we are positioning ourselves, and devoting as much time as possible, to outside Europe. We are fostering relations with African nations, but also with partners such as China, with which we have a long-standing relationship. Malta was one of the first countries to recognize China.
We have an astonishingly close relationship with China. I call it astonishing because of two factors. One is distance–there is considerable distance between our two countries–and the second is size. We find it quite extraordinary that the Chinese show us such a great deal of respect and have so much time to devote to us. I think it boils down to our historical ties. We want to maximize those ties so they don't remain simply courtesy ties, or only related to the past.
Malta played a key role helping thousands of Chinese nationals escape the turmoil in Libya, by transiting through your country, in early 2011. Was that important in cementing the relationship you have today?
It is our duty to help all those who need our help in such situations. That is where the strategic position of our country comes into play. But this is important not only in times of necessity and instability. Our strategic position also allows us to serve as a business gateway to both Europe and Africa. We are 30 minutes by plane from Tripoli, and 30 minute away from Italy.
The relationship we are trying to foster with the Chinese during this new chapter is to maximize this double potential. We can provide access for Chinese enterprises to both the European market, and serve as a near shore location for the African market.
Can you talk more about the business advantages of Malta?
I think that it is obvious what we stand to gain from working with China. I am more interested in talking about what China and other countries stand to gain by cooperating with us. I think we are small enough to be trusted by everyone. We are an honest broker and a safe haven in an area of instability. And I think events over the past few years have shown the value of stability and being able to offer such a safe haven.
Companies want to penetrate the African market but still are of two minds: should we or shouldn't we invest, is it too early or not? They worry that the situation is still too unstable, and they might lose their investments if they move too quickly. On the other hand they don't want to be too late because things are changing in these countries at different rates.
That is where Malta comes into play. They can establish a near shore location in our country, to access the African market. The distance between Egypt and Malta is insignificant. The distance from Tunisia to Malta is insignificant. In many countries these would be classified as internal flights.
So we are offering security of tenure. We are offering a European jurisdiction with stability–there are no unknowns. And the second is access to the European market. We are looking for strategic partners to access the wider European market, the single biggest market in the world.
Are there particular industries that you think would be best suited to take advantage of these opportunities?
I was very intrigued by what premier Li had to say at the opening of the World Economic Forum. He mentioned two figures that stuck in my mind. One was the $500 billion outward investment that China is committed to make over the next few years, and the second was the 400 million tourists that China will be sending around the world, over the same time frame. We need to take advantage of this.
We are very impressed by the fact that although we only started negotiations on investing about four or five months ago, deals have started materializing quite quickly. That gives me peace of mind that this is an agile giant that we are dealing with, not one with a cumbersome decision-making process. The deal we struck on the energy side [with China Power Investment and Shanghai Electric investing in Malta's energy provider] taps into another area of cooperation. There is also potential on information technology, financial services, transport, logistics, the maritime sector, and tourism.
Will China have a role in building infrastructure in Malta?
That is something we are examining. We are obviously bound to public procurement procedures when it comes to infrastructure, as per European rules. But we are quite confident that Chinese companies, like other international companies, can compete quite handsomely in our infrastructure projects.
Obviously, for titans in the industry these deals may be quite small in size–we are a small country. But we think it will still be of interest. We have already signed an agreement with China Communications Construction Company [parent company of China Harbour, which built the Red China Dock], which is carrying out a feasibility study on building a bridge between two of our islands [Malta and Gozo.]
Are you interested in encouraging Chinese to seek residency in Malta?
We are interested in bringing in all those who are reputable people, who are willing to take up residence in Malta. We however, don't do the hard selling. An address in Malta, residence in Malta, comes at a premium. So we are not into selling this right cheap. We have limited space in our country so we have to choose people carefully, no matter what nation they come from. In the next few months we will be issuing what I believe will be new exciting programs on residency and even citizenship. Again, due diligence and choosing the right type of person will be paramount.
How about your relationship with Africa?
For Africa it will be more focused on infrastructure, health, and education, the basic needs, plus commodities of course. We still think our greatest potential is with Libya, which is our closest African neighbor. We have just struck a memorandum of understanding on the supply of energy with Libya, and the setting up of a service center for Libyan state-owned companies in Malta.
So there is an obvious affinity between our two countries that goes back many years. We see them as a natural partner, and Libya sees Malta as a natural partner too. But we want to expand further down in Africa. We want to have a more pan-African outlook. So that means turning towards Egypt, Morocco, and Algeria [to look at business opportunities.] And it means also moving deeper, going down to Kenya, Ghana, and South Africa.
I understand you met with premier Li Keqiang earlier on this visit. Did you hear about China's economic reform plans and are they an opportunity for Malta?
Definitely. It is a huge opportunity not only for us, but for every country in the world. During our meeting, and also during his speech at the opening of the World Economic Forum, I was struck by the focused manner in which he is dealing with the economy. He acknowledged that China is experiencing a slowdown, while setting out what his targets are, and how he and the Chinese leadership will achieve them. I was impressed and think he will deliver. I also see him as charismatic. And I was impressed by the fact that they are looking into outward investment in other countries as an integral part of their strategy.