Survey: What's Your After-Work Routine?
By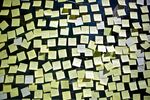 Six multitaskers share how they maximize time at the end of their day:
Suzanne Garber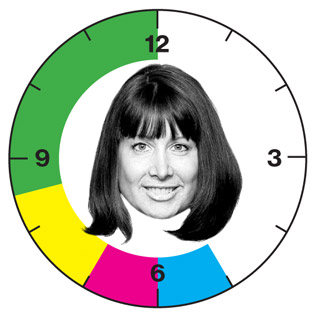 45, chief networking officer, International SOS, Philadelphia
5 p.m. Swim at the community pool with my husband or my sister-in-law's kids. I oversee health-care, security, and travel providers around the world—calls might be scheduled at 6 a.m. or midnight, which leaves my mid-afternoons more open.
6 p.m. Prepare dinner and snacks to host Bible study or book club.
7 p.m. The ladies arrive.
8:30 p.m. Friends depart, and I quickly clean up and prepare for my calls.
9 p.m. Three hours of conference and video calls with clients, providers, and employees throughout Asia and Australia.
12 a.m. Hang up and prepare for bed. The next round of calls begins at 6 a.m., noon in Europe.
 
Les Gold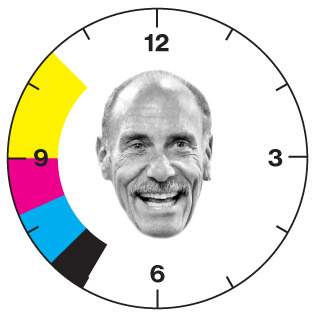 63, star of Hardcore Pawn and owner of American Jewelry & Loan, Detroit
7 p.m. Our store closes at 6, so I usually go home around 7, ready for hard-core family time.
7:30 p.m. Arrive home. Say hello to my wife and head out to smoke a good cigar and walk with our dogs, Wilma and Dino.
8:15 p.m. My wife and I enjoy a late dinner together. My workday is so intense, and I don't eat much during the day, so I really look forward to a nice evening meal where I can unwind.
9 p.m. Although we work together, I really like to call and touch base with my kids and tuck in the grandkids. We all live nearby, so I head to one of their houses and read a bedtime story.
10:30 p.m. My bedtime. I start my day at 5:30 a.m. with spinning or lifting weights.
 
Karen Zuckerman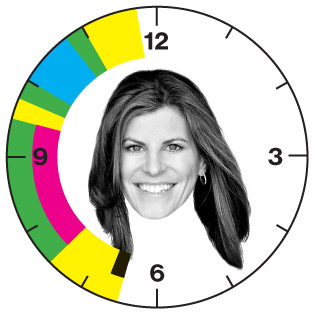 49, president and executive creative director, Hirshorn Zuckerman Design Group and chief executive officer, Dormify.com, Rockville, Md.
6:30 p.m. Leave my 120-employee office and head home. Call my parents to catch up.
6:41 p.m. Sitting in the garage because my mom won't let me hang up.
6:45 p.m. My 16-year-old son and I watch TV and talk about the day.
7:30 p.m. Head out to dinner at Sugo, my favorite local hangout, with a client.
9:30 p.m. Drive home. Call my daughter in New York.
9:45 p.m. Jump on the computer and look at the day's numbers for Dormify.
10 p.m. Hop on the treadmill and catch up on TV.
11:30 p.m. Get ready for bed with my skin-care regime.
11:40 p.m. Get in bed with the phone or computer. Take the remote from my husband and change between Leno and Letterman until I crash.
 
Maneesh Goyal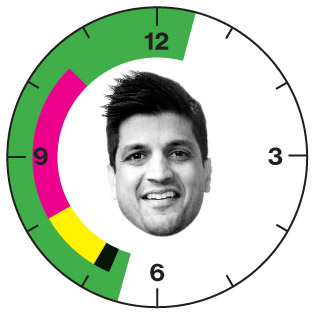 38, founder and CEO, MKG, New York
6:30 p.m. Pulled into a last-minute brainstorming session.
6:45 p.m. Hop into a cab. In transit, I scroll through Instagram to see what all my favorite people and brands (like Pete Souza, the official White House photographer, and Delta Air Lines) are up to.
7 p.m. A cocktail event, likely hosted by a charity, politician, brand, or—on the best nights—a friend. Start with a vodka gimlet and avoid the delicious, calorie-laden hors d'oeuvres.
8 p.m. Work dinner. I do this four out of five nights a week.
10:30 p.m. Home at last. A few spoonfuls of pistachio ice cream, and then I clear out a backlog of daily e-mail.
12:30 a.m. Law & Order: SVU. I always see the crime and can rarely stay awake long enough to find out who's to blame; 6 a.m. wake-up call.
 
Sarah Grover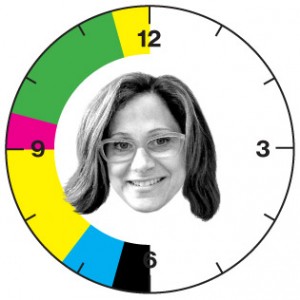 48, chief concept officer and executive vice president, California Pizza Kitchen, Playa Vista, Calif.
5:45 p.m. Try my best to make it to my favorite SoulCycle spinning class.
6:30 p.m. Class begins, and I feel invigorated—it's the only time of day I can actually exercise, and I love that it's in the dark.
7:15 p.m. Head home for quality time with my 7-year-old twins: reading, homework, talking about our days.
9 p.m. Dinner with my husband, where we catch up and talk about the week. Kids are, hopefully, sleeping.
9:30 p.m. Back to work, either in my home office or at my kitchen counter. I catch up on missed e-mails or work that needs my interruption-free focus.
11:30 p.m. Bed. I relax by reading my favorite four newspapers on my iPad.
12:15 a.m. Lights out, before I start the day all over again at 6:30 a.m.
 
Jim Whitehurst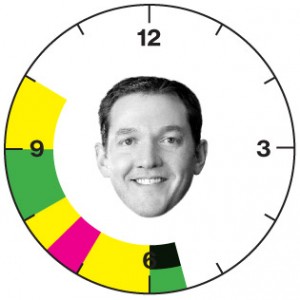 45, president and CEO, Red Hat, Raleigh, N.C.
5:30 p.m. Leave office. Do a phone meeting on my ride home to best use that half-hour.
6 p.m. Homework in the kitchen with the kids, 11-year-old twins. Because I travel half the time, I protect evenings at home with my family.
7 p.m. We talk and laugh (or sometimes yell) while mom cooks dinner. We eat as a family, and we don't allow multitasking!
7:30 p.m. Dishes. That's my job.
8 p.m. The kids shower and read, while my wife and I do e-mail or other work for an hour. We're silent, but at least we're together.
9 p.m. We read or watch TV. I find downtime after e-mail is key for getting a restful night's sleep.
10 p.m. Lights out. Just minutes later, it seems, it's 5:30 again, time for our workout!