Sotheby's Adopts Poison Pill to Thwart Loeb
By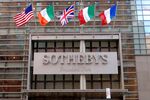 Sotheby's, the famed art auctioneer, moved to shut down a particularly aggressive bidder this morning. Faced with a takeover threat from the activist hedge fund run by Dan Loeb, the auction house adopted a poison pill, a corporate-governance tactic intended to keep an investor from buying more than 10 percent of the company's shares. Loeb's New York firm, Third Point, recently increased its stake to just under that threshold, becoming Sotheby's largest shareholder.
"This action is designed to protect the interests of all of our shareholders," said Bill Ruprecht, Sotheby's chief executive, in a statement. Loeb—or any other interested party—could still buy Sotheby's but not without coming to the board with a formal offer. The poison pill does not physically block the purchase of stock; rather, it allows the Sotheby's board to stamp out reams of additional shares to dilute the concentration of any single investor.
Loeb took the company to task on a number of fronts in a recent letter. Most notably, he said Sotheby's has been slow to embrace lucrative modern art sales, missed opportunities with lower-value auctions, and overpaid Ruprecht. "Sotheby's is like an old master painting in desperate need of restoration," Loeb wrote. In today's Wall Street Journal, meanwhile, a profile of Ruprecht's three-decade rise at Sotheby's, starting with a job in its rug department, also offers a look the evolution of the art-auction business over the years.
Sotheby's revenue has climbed 74% during Ruprecht's time at the helm, as the Journal notes, and shares have surged almost 60 percent in the past 12 months—so shareholders might not be quite as restless and critical as Loeb. The poison pill provision will expire in one year. If Loeb still has his paddle up, the board can extend it.