Shutdown Keeps Some Airlines From Getting Their New Planes
By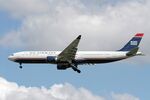 The U.S. government shutdown, now nearing the end of its fourth day, is also affecting airlines awaiting new planes.
A US Airways spokesman said today that one of the company's new Airbus A330s, expected to be delivered in Charlotte on Saturday, is stuck in Toulouse, France, because of the government closure. JetBlue Airways was to have received its first A321 from Airbus—a stretched version of its current A320 workhorse—on Oct. 2, but that airplane is sitting in Germany.
The problem lies with the airlines' inability to register the new planes with the Federal Aviation Administration, a prerequisite to flying into the U.S. An FAA spokeswoman did not immediately respond to an e-mail seeking comment—and her office, of course, has also been closed by the shutdown.
JetBlue plans to begin flying the new model in December, so the delay probably won't affect travelers. US Airways uses the wide-body A330 for its European flights.
A spokeswoman for American Airlines, which began flying Airbus A319s in September, told Bloomberg News that the company is monitoring its deliveries scheduled for later this month. Boeing's deliveries of 787 Dreamliners built in South Carolina are likely to be slowed by the shutdown because those aircraft are authorized by FAA employees who are now on furlough. In Washington state, where most Boeing planes are built, the FAA delegates that authority to the company.
Before it's here, it's on the Bloomberg Terminal.
LEARN MORE