Potbelly Devoured by Hungry Investors Seeking the Next Chipotle
by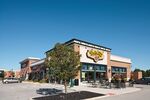 Wall Street is salivating this morning over Potbelly, a burgeoning chain of sandwich shops that just served up a hot initial public offering. The company sold 7.3 million shares at $14 apiece, above their expected range of $12 to $13, and in the first few hours of trading Friday the price promptly doubled and showed little sign of slowing.
This is not a company with a treasure trove of patents, some magical brew of tech alchemy, or legions of workers selling smart services. It's a simple restaurant chain with slim profit margins to match, perennially less than 4 percent, according to its seminal SEC filing. To make good, then, the Chicago-based company needs to grow. The hope of Potbelly, its bankers and investors, and any entrepreneur whipping up quick fare is to become the next Chipotle, the burrito chain whose shares have rocketed from $22 to $427 since going public in 2006.
Potbelly now has 300 stores and aims to increase locations by 10 percent a year. Chipotle, however, had three things going for it that Potbelly lacks:
Some Helpful McMuscle: In 1998, when it was still a scrappy little chain with 14 locations, Chipotle was savvy enough to sell a minority share to McDonald's. The fast-food empire didn't know anything about Mexican fare, but it knew plenty about buying ingredients, selecting real estate, crafting a national marketing campaign, and financing growth. (Of course, McDonald's didn't hold on to its Chipotle stake long enough to reap the benefits.)
A Lifestyle Trend: Chipotle had the insight (and good fortune) to wrap its business into two major consumer movements: rising demand for healthier fare and hunger for unprocessed, natural, or organic ingredients. Potbelly has offerings that fall into those categories, but so does every other fast-food company these days. The first-mover advantage on free-range chicken and fresh produce is long gone.
A Different Delivery Device: Burritos weren't exactly exotic in the late 1990s when Chipotle started on its growth tear, but good ones were pretty hard to come by in most parts of the country. In a fast-food format, Taco Bell was pretty much the only burrito game in most town. Potbelly, meanwhile, survives on "S" foods: sandwiches, soups, salads, smoothies, and shakes. The supply of fast fare in those categories has always been fat. In addition to the ubiquitous neighborhood deli, Potbelly is going up against Subway, Panera Bread, Jason's Deli, Quiznos, Firehouse Subs, and Jimmy John's, to name a few.
So what does Potbelly have going for it? "Good vibes, great sandwiches," according to its motto. That would include old-timey décor, allegedly friendly staff, and a "neighborhood feel" at its shops—and they even invite local bands in to stage small-scale shows. The chain also has an "underground" menu with which it hopes to cultivate the kind of cultish loyalty enjoyed by such chains as In-N-Out Burger: Try ordering a Wrecking ball, Lucky Seven, or the deceptively named Cheeseburger.
Like a good sandwich, the company says its success lies in the sum of its parts, not in any one ingredient. Is that enough to satisfy investors? Time will tell. Is it enough to fuel a Chipotle-esque run? Doubtful. But Potbelly does have something on its menu called the Pizza Sandwich—and maybe will prove to be just the thing to upend the cheese-and-sauce sector.
Before it's here, it's on the Bloomberg Terminal.
LEARN MORE