America's Adversaries Love the Shutdown
By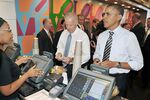 By canceling a planned trip to Asia next week, President Obama might have thought he'd sidestepped a potential political minefield. Republicans would undoubtedly have howled at the sight of the president skipping town in the midst of a government shutdown. Some of them are howling anyway. "The White House planning staff would have (or should have) seen this collision of deadlines coming months ago," wrote conservative columnist Daniel Henninger in the Wall Street Journal. "Foreign relations suffer so Mr. Obama can pummel the GOP."
In the eyes of much of the American public, Obama still has the upper hand over House Speaker John Boehner in the battle to be blamed less for the shutdown. But no matter when and how the budget crisis is resolved, Obama's stature overseas will be diminished. It's not just that, as Josh Kurlantzick argued here earlier this week, he's lost the opportunity to make an in-person push for a trans-Pacific free-trade agreement—an initiative once hailed as a major priority for his second term. Obama's no-show at the Asia-Pacific Economic Cooperation meeting in Bali also marks the second straight year he's opted not to attend the annual gathering of Asian leaders. The administration's talked-about "pivot" to Asia has been exposed as a rhetorical wish more than a strategic reality.
Predictably, the U.S.'s absence from the Asian stage has been exploited by its biggest rival, China. While Obama shared sandwiches with furloughed federal workers, Chinese President Xi Jinping became the first foreign leader to address Indonesia's parliament. As the New York Times reports, Xi plans to use the APEC meeting to make the case for the Regional Comprehensive Economic Partnership, Beijing's alternative to the U.S.'s Trans-Pacific Partnership. "He is winning hearts and minds in the right places," Endy Bayuni, senior editor of the Jakarta Post, told the Times.
The shutdown is also damaging the administration's efforts to negotiate a deal with Iran over its nuclear program. U.S. Under Secretary of State for Political Affairs Wendy Sherman told the Senate Foreign Relations Committee that with so many staffers on forced furlough, the Department of the Treasury's Office of Foreign Assets Control, "along with our own sanctions monitoring group, has been completely, virtually, utterly depleted in this time." Meanwhile, the "intelligence community, which we rely on for intelligence information to go after sanctions evaders and sanctions … has been devastated as well."
The economic bite caused by the West's sanctions against Iran has been the single biggest factor in pushing Iranian President Hassan Rouhani to the negotiating table. If those sanctions start to weaken, so will the U.S.'s leverage and Rouhani's incentive to compromise.
Whether the budget crisis is resolved in the coming days, the continued spectacle of a dysfunctional, divided U.S. government plays into the hands of those inside Iran who believe they can use negotiations to buy time without conceding anything, knowing that Obama is unlikely to be able to win domestic support for a deal. "These guys have a very sophisticated understanding of American politics," says Abbas Milani, an Iran expert at Stanford University. "They understand power very well and understand bluffs very well. They've been in leadership positions for 35 years. They're seasoned politicians." The longer the stalemate in Washington drags on, the better it is for America's adversaries.
Before it's here, it's on the Bloomberg Terminal.
LEARN MORE