Dimon Cedes Chairman Title at JPMorgan Banking Unit
With the bank in regulators' crosshairs, Dimon will remain chairman and CEO of the parent company
by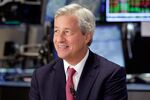 Jamie Dimon, chief executive officer and chairman of the board at JPMorgan Chase, has one fewer titles to his name: He's no longer chairman of the company's main banking unit, according to a filing made public Oct. 1.
Dimon gave up the title at the start of July, Bloomberg News reported, citing a person familiar with the matter, on the advice of the bank's attorneys and not because of the multiple federal investigations into JPMorgan's dealings, from derivative trading to mortgages.
In May, Dimon triumphed in what was effectively a referendum on his fitness to lead the bank as both chairman and CEO, winning a shareholder vote by a 2-to-1 margin. JPMorgan had racked up a record profit of $21.3 billion in 2012 but also a $6 billion trading loss that broke Dimon's halo as a risk manager nonpareil. The debacle put JPMorgan, which Dimon had steered through the financial crisis without a single losing quarter, squarely in the crosshairs of government investigators.
In September, the bank paid nearly a billion dollars in fines to U.S. and U.K. regulators to settle charges related to the bad trades and admitted breaking federal securities laws. Now JPMorgan is negotiating with the Justice Department and other regulators to settle charges related to its mortgage business, with a payment that could reach $11 billion. Dimon, once known as President Barack Obama's "favorite banker," was reduced to showing his New York state ID card outside the Justice Department en route to a meeting on Sept. 26 with Attorney General Eric Holder.
The document released yesterday, in which Dimon is now listed as chairman emeritus of JPMorgan's banking subsidiary, is the company's latest "living will," which is meant to be a guide to regulators in the event the bank needs to be unwound in a crisis.
Before it's here, it's on the Bloomberg Terminal.
LEARN MORE