An NFIB-Branded Credit Card Lacks Key Borrower Protections
By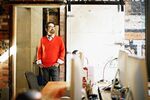 The National Federation of Independent Business is typically thought of as an influential business advocacy group. Now it's lending its name to a new credit card offered by the First National Bank of Omaha: the NFIB Business Edition MasterCard, a "business rewards card built for NFIB members by an NFIB member." Yesterday's announcement follows separate plans from Occupy Wall Street for a new debit card.
The acronym for the NFIB—which claims 350,000 members—appears in large letters in the upper left-hand corner, followed by "The Voice of Small Business." The NFIB will get revenue from the partnership, says Jean Card, a spokeswoman for the group. The card's main draws: Borrowers earn points that can be redeemed for merchandise and travel and pay no interest for the first nine business cycles.
Less attractive: After that, annual percentage rates range from 12.99 percent to 19.99 percent, depending on the borrower's credit worthiness. Because it's a business card, it doesn't have to offer basic borrower protections that credit-card companies are mandated by Congress to provide to personal cardholders. Two in particular catch the eye:
• "We reserve the right to unilaterally change the rates, fees, costs, and other terms at any time for any reason in addition to APR increases that may occur for failure to comply with the terms of your Account," according to the terms of service.
• "You agree that payments on your Account may be applied in the order we select. We may allocate payments to balances starting with the lowest Annual Percentage Rate."
The card's terms of service stipulate a penalty APR of 29.99 percent for borrowers who make late payments. The first bit of fine print states that First National can also raise rates at any other time. The second bit describes a practice that is also considered insidious by critics of predatory lending. If a borrower carries two balances at different rates, logic dictates she would pay the balance with the higher rate first. First National is claiming the right to apply payments to the lower-rate balance first.
Back in 2009, when Americans were railing against predatory lending, Congress sought to put an end to both of the practices bulleted above, passing the Credit Card Accountability, Responsibility, & Disclosure (CARD) Act. Banking industry lobbyists prevailed upon lawmakers to exempt business credit cards from the law, arguing that extending the protections would make credit more expensive and harder to get.
"It's sad that an organization that's supposed to look out for its members has aligned itself with a credit card that doesn't offer CARD Act protections that other issuers have extended," says Odysseas Papadimitriou, chief executive of credit-card comparison website CardHub.com. Bank of America has extended CARD Act protections to business account holders. "I think that it's a matter of time before the rest of the industry does the same," Papadimitriou says.
The NFIB's spokeswoman says First National is a top issuer. "It's a highly regulated industry, and I have the utmost confidence that they're aware of and in compliance with all the regulations," says Card. "We don't think there's any there there." First National bank executives didn't respond to requests for comment.
Commercial partnerships aren't new for the NFIB. In addition to lobbying lawmakers and producing sentiment surveys, the group provides its members with "cost-effective commercial and health insurance, savings on office equipment, maintenance & repair supplies," and more, according to its website. Another page on the NFIB's site tells business owners shopping for a company credit card to "look for a card with low annual fees" and notes "APRs vary from 0% to 10% or higher, and late payers should probably choose the lower rate."