Airlines Agree to UN Carbon Pact—and Nobody Knows if It Will Work
By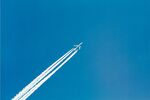 A United Nations panel agreed on Friday to devise a system to limit airline carbon emissions by 2020, a deal heralded as the first time a single industry has committed itself to take concrete steps to fight climate change. Airlines account for about 2 percent of greenhouse gas output.
The agreement by the UN International Civil Aviation Organization means that airlines will build a market-based mechanism to monitor, report, and verify aircraft carbon emissions by 2016, with a goal to implement the scheme by 2020. The effort at the group's meeting in Montreal had been seen as a last-ditch attempt to avert a trade war threatened by the European Union's plan to tax carbon emissions by airlines that operate within its borders. China, Russia, India, and the United States have all vehemently opposed the EU plan, which is scheduled to take effect in April. Russia, for its part, had already threatened to restrict Siberian airspace in retaliation if the EU carbon plan were implemented. The UN proposal ratified on Friday does not include the EU's tax plan.
Connie Hedegaard, the EU's climate change commissioner, praised the UN agreement and said the union's work had paid off. "What matters to us is that the aviation sector also contributes to our efforts to reduce emissions," she said in a statement. "While we would have liked more countries to accept our regional scheme, progress was made overall and we will now factor this in when, together with the member states and the European Parliament, we decide on the way forward."
The airlines have previously said they want to achieve carbon-neutral growth by 2020, with new engine and aircraft materials seen as key components of that goal. But most observers agree that as airline traffic rises in coming decades to meet the needs of middle-class consumers in Asia and India, aviation emissions will increase. That's why a formal scheme to track and offset airlines' carbon output is considered the only viable means of curbing emissions.
Still, some critics noted that the UN body had given itself a seven-year window to talk about how to address the problem, not exactly a timeline that emphasizes urgency. Bill Hemmings, an executive with the environment group Transport & Environment, told Reuters the agreement lacked the "guts" environmentalists have been wanting from the industry. "After all was said and done, much was said and not much was done," he said.
Dan Rutherford, aviation program director for the International Council on Clean Transportation, said it's not clear how European regulators will respond "to what most would see as further inaction by ICAO." He also questioned whether the group's delay on a new mechanism will prompt individual countries to formulate their own emissions policies, "which could lead to a patchwork quilt of regulations rather than a unified global framework."
The UN aviation group meets every three years and aims to adopt the new emission-control framework at its next gathering in 2016.
Before it's here, it's on the Bloomberg Terminal.
LEARN MORE