After Years of Defying Odds, Is It Finally 'Ciao, Silvio?'
By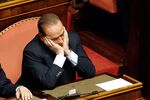 The Italians call him Il Cavaliere (The Knight), and during his almost two decades in politics, Silvio Berlusconi has suffered plenty of potentially career-ending spills.
In the former prime minister's latest brush with disaster, a parliamentary committee has convened a public meeting today on whether to expel Berlusconi from Italy's Senate. "This is the blackest point in his political history," Francesco Galietti of Rome-based research firm Policy Sonar tells Bloomberg News.
Here's a chronology of Berlusconi's ups and downs, along with predictions—all wrong, as it turned out—that he was finished.
May 1994: Sworn in as prime minister after his right-wing Forza Italia party wins parliamentary elections.
November 1994: While chairing an international conference on organized crime in Naples, is served with formal notification that his Fininvest holding company is under investigation for corruption.
December 1994: Resigns rather than face a parliamentary no-confidence vote. "The brave new world of Silvio Berlusconi lasted just seven months," Britain's Independent says.
April 1996: Seeks a comeback but is defeated in snap elections by the center-left forces of Romano Prodi.
May 2001: Becomes prime minister again after his right-wing House of Freedom Party wins elections. Before the vote, the Economist runs a cover story detailing conflicts of interests with his business empire and allegations that he engaged in corruption, tax fraud, and money laundering. "He is not fit to lead any country," the magazine concludes.
April 2006: Narrowly loses parliamentary elections to Prodi's party. During a debate, Prodi likens Berlusconi to "a drunk leaning against a lamppost." After the election, leading academic and journalist Roberto Zaccaria declares: "The era of Berlusconi is finished."
May 2008: Becomes prime minister again after winning snap parliamentary elections, as Italy plunges into recession.
April 2009: Wife, Veronica Lario, publicly denounces him for womanizing and installing attractive, inexperienced women in government posts. She then files for divorce.
December 2009: Suffers a broken nose and deep facial cuts after being attacked in Milan by a man wielding a statuette. Doctors say they worry about his "morale."
September 2010: As criticism mounts over his government's handling of the economy and the debt crisis, the news website AgoraVox declares that the Berlusconi era "ended over a year ago." Chamber of Deputies Speaker Gianfranco Fini calls on Berlusconi to resign.
December 2010: Survives a confidence vote in the Chamber of Deputies by three votes, as student protesters clash with police outside.
November 2011: Steps down as prime minister, as Italy's borrowing costs soar and parliamentary support unravels. The online daily Lettera 43 declares that his resignation marks "the end of an epoch."
October 2012: Convicted of tax fraud. "Berlusconi, Game Over," the Catholic newspaper Famiglia Cristiana declares.
February 2013: "We'll wipe the spots off this jaguar," center-left party leader Pier Luigi Bersani says of Berlusconi as he campaigns in parliamentary elections But Berlusconi's party makes a surprisingly strong showing, preventing Bersani from forming a government. Berlusconi later joins a coalition government with the center-left, led by Prime Minister Enrico Letta.
March 2013 to August 2013: Convicted of arranging an illegal wiretap of a political rival; convicted of paying for sex with an underaged prostitute; loses final appeal of tax-fraud conviction.
October 2013: Fails in effort to destabilize Letta's coalition government as he faces expulsion from the Senate. Even so, Galietti of Policy Sonar says he's still not ruling out a Berlusconi comeback.
Before it's here, it's on the Bloomberg Terminal.
LEARN MORE