Why Airbnb Wants to Start Paying Hotel Taxes
By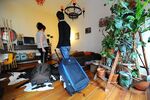 Fresh off a recent victory in an administrative court, Airbnb is looking to clarify its legal status in New York City. Co-founder and Chief Executive Officer Brian Chesky on Thursday published a blog post describing the company's values and offering some concessions. It reads as an attempt to charm its opponents into dropping their opposition to the growing phenomenon of people renting out their apartments to strangers over the Internet. To sweeten the deal, Chesky says the startup is willing to pay taxes and deal with noisy guests.
Airbnb needs New York. It's the country's largest city by far and also a preeminent tourist destination, with visitors spending $34.5 billion in 2011. The company has faced some hostility from lawmakers, landlords, and residents who lump the site together with illegal hotels, which have caused various forms of unhappiness for years. And of course, there's a hotel industry in the city that isn't exactly eager for new competition.
The legal ambiguity around Airbnb was highlighted by the case of Nigel Warren, an East Village resident who was fined $2,400 for using the site to rent out his room. The fine was reversed last week, but that didn't mollify the author of the state's illegal hotel law, which dates from 2010. As it stands, the state considers anyone renting out a room for fewer than 30 days without a hotel license to be operating an illegal hotel, unless a permanent resident is in the apartment for the duration of the rental.
Chesky's main argument is that Airbnb users are a nice bunch. In today's blog post he puts the total number of hosts in New York at 15,000 and says 87 percent of them are renting out the homes they live in, rather than running businesses. There's a squishy claim that "more than half of them depend on Airbnb to help them stay in their home," he says. After Hurricane Sandy, Airbnb helped house people for free. Also, in a stat that's clearly aimed at the hotel industry, Chesky notes that only 13 percent of Airbnb hosts live in the Midtown Manhattan hotel district.
This isn't coming from nowhere. Airbnb has already been wrangling over this law in Albany and has hired a lobbyist to help it do so. But Chesky now says Airbnb rentals should be subject to the local hotel occupancy tax, which is $2 per day plus 5.875 percent of the total rent for rooms that cost more than $40 a day. He doesn't mention sales tax, and Airbnb declined to clarify its stance on which other taxes it thinks it should be liable for. It also wants to make exceptions for people who make less than a certain amount of money renting out their apartments.
Finally, the company says it's starting a 24-hour hotline for neighbors who have complaints about noisy Airbnb guests.
Startups like Airbnb have hung tight to the claim that they should be exempted from many regulations because they're just facilitating informal economic activity. But the bigger these businesses get, the less convincing this argument becomes. In offering to begin paying some hotel taxes, Airbnb is acknowledging that it actually does bear some resemblance to hotels, while not abandoning its case that it exists somewhere in the middle. The question is whether the company can convince the government to put that distinction into law.
Before it's here, it's on the Bloomberg Terminal.
LEARN MORE