Vinyl Records' Renaissance Barely Moves the Sales Needle
By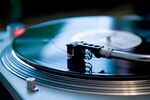 You can break out those REO Speedwagon albums again because vinyl is back—sort of.
A remarkable 2.9 million vinyl LPs have been sold in the U.S. so far this year, up 33.5 percent from 2012, according to Nielsen SoundScan. In fact, vinyl has been steadily on the rise since bottoming out in 2006, when only 858,000 records were sold. In just seven years, the 65-year-old format has bounced back 338 percent.
You can now find vinyl albums, once relegated to used record shops and college radio stations, at Urban Outfitters, on Amazon.com, and even at Whole Foods—a cross-section that speaks volumes about the vinyl demographic. The resurgence is largely attributed to the type of people who place a premium on traditional recording formats and the overall listening experience. These people probably also eat kale.
Interestingly, the type of album purchased on vinyl is also changing. In 2010, the Beatles' Abbey Road was the top-selling vinyl album of the year, and the top-10 list included such other classic albums as Pink Floyd's Dark Side of the Moon and Michael Jackson's Thriller. This year vinyl has caught up with the musical moment, with new releases from Daft Punk, Vampire Weekend, and Queens of the Stone Age ranking as the highest sellers.
But here's the thing: Even in today's diminished music business, 2.9 million albums isn't very much. Vinyl sales make up only 1.4 percent of all albums sold so far this year, according to Nielsen SoundScan, which makes touting the "comeback" of vinyl a little bit like telling a double amputee that at least he won't have to spend money on winter gloves.
How insignificant are vinyl album sales? The number of LPs sold in the U.S. represents 3.7 percent of compact discs sold this year, and less than 1 percent of the online streaming audience for the novelty song behind Harlem Shake. It's the number of Nokia Lumia phones sold in just a single quarter last year and the people who rode Amtrak in a single month this summer.
Oh yeah, and it's the same number of albums sold by rock band Asia in 1982. If you want to save the music industry, you're going to have to do better than Asia.
Before it's here, it's on the Bloomberg Terminal.
LEARN MORE